Who doesn't love chocolate cake? I love chocolate cake, but whenever I get a chocolate cake craving, I am not going to make myself a giant cake! That's why I love this microwave chocolate mug cake. It's instant satisfaction for my chocolate craving and I don't need to share with anyone!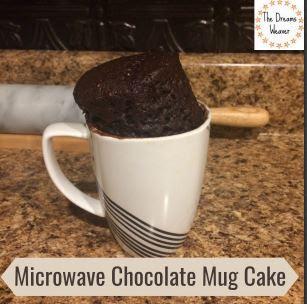 What you will need:
¼ cup flour
5 Tbsp. sugar
2 Tbsp cocoa powder
1 egg
3 Tbsp. milk
3 Tbsp. vegetable oil
Dash of vanilla extract
Dash of salt
Spray the mug generously with cooking spray and whisk all ingredients in a large mug until smooth. Microwave until puffed, about 2 minutes.
Enjoy!