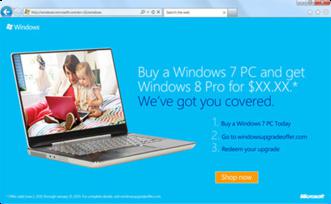 Microsoft will offer an upgrade to Windows 8 for consumers who buy PCs with Windows 7. This upgrade will bring the PC to operate with Windows 8 Pro for only $ 15. This special offer will be started on June 2, in order to lure consumers are still waiting for new products with Windows 8 to buy their products.
Another bid was also provided by Microsoft where to purchase specific software, Microsoft offers the same software version, but upgraded to the Pro version. 
This bid will also be started in the early weeks of June, while the final version for Windows 8 itself will be released in the fall of this year that unfortunately there is no official date. 
Other upgrades will also be heard is given, but are offered in packages, as well as an upgrade to Windows 8 Pro and Windows Media center.
source
regards,
hpmurah2u