Last month, Microsoft announced a technical preview of its new Skype for Business, and now the company's officially launched the service. Skype for Business is currently rolling out to Office 365 customers all over the world, and the rollout should be complete by the end of May.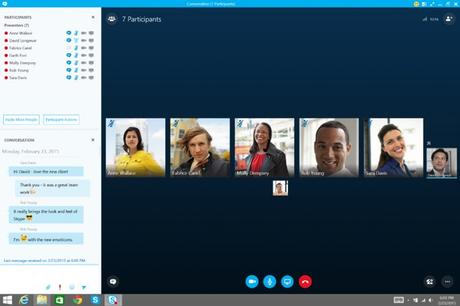 "Skype for Business is based on the familiar Skype experience that more than 300 million people use every month to connect with friends and family. It is built right into Office, so features like presence, IM, voice and video calls, and online meetings are an integrated part of the Office experience. And with Skype for Business, you can search for and connect with anyone in the Skype network–inside or outside your organization."
Skype for Business has formally replaced Lync Online, so any businesses who were using Lync up until this point will be transitioned over to Skype for Business.
The new Skype client lets you search for and connect with anyone in the Skype network, both inside or outisde your organization, and you can also video chat with them. Microsoft has also added the call monitor feature, which keeps your active call visible in a small window, whenever you move onto another tab.