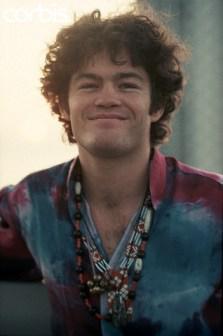 If you go seven entries back, you may remember reading about "Daddy's Song" by The Monkees. Toni Basil is the girl  dancing with Davy. If you're a fan of The Monkees, the name "Micky Dolenz" should immediately come to mind because of this song title. It's no coincidence – this song is about Micky Dolenz!
Mickey was released in 1982 from Toni's debut album, Word of Mouth. It was originally called "Kitty" and intended for a UK male group called Racey. The lyrics were written by Mike Chapman and Nicky Chinn. Toni changed the name to "Mickey," along with some of the lyrics, so that it was about a man instead. Numerous websites state that she had developed a crush on Micky Dolenz during the filming of The Monkees movie, Head.
I couldn't find clarification from Toni herself but it's definitely a big coincidence. The only thing that makes me wonder is the spelling of "Mickey," wouldn't she know how to spell the name of an old crush? Micky doesn't use an "e" in his name. Maybe she didn't want to be too obvious…
Either way, I always think of Micky when I hear it now. I also wonder how many times he's heard this song over the past 30 years? If it's really about him, he has to be laughing about it. After all, it went to #1 on Billboard's Hot 100! How's that for a crush???
Above is a live performance from 1987. I also found a Micky Dolenz fan video featuring the song, check it out HERE.