Michelle Kwan replaced her seemingly magical ice skates and short figure skater skirts with satin pumps and a Vera Wang wedding gown last Saturday. The champion singles figure skater is now only single on the ice.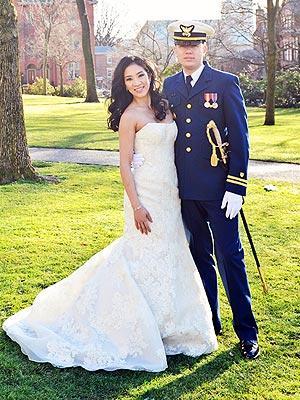 via People
Michelle exchanged wedding vows with Clay Pell in a Rhode Island ceremony on Saturday, January 19, 2013. The nuptials were spoken in a formal ceremony in the First Unitarian Church of Providence.
Fittingly, (pun intended) Vera Wang, who designed Michelle's skater outfits during her successful career, agreed to design the wedding gown. The classic mermaid-style gown was lovingly fashioned from yards of ivory silk organza with lots of lace handwork.
Wang emphasized that the dress for Michelle had to have dignity and class.
The famous designer stated, " She is marrying someone whose family has a political history, and Michelle is living and working in Washington, D.C."
Clay Pell is the director for strategic planning on the national security staff and works at the White House. He is also a JAG and a lieutenant in the U.S. Coast Guard. He walked to the alter in full dress uniform to await Michelle escorted on the arm of her father. The ceremony was witnessed by 240 family members along with fellow Olympic champions Dick Button, Dorothy Hamill, Brain Boitano and Peter Oppegard.
The ceremony touchingly included the song Fields of Gold. Michelle performed to the song for her bronze-medal win at the 2002 Winter Games in Salt Lake City.
Rebecca M for Raymond Lee Jewelers, South Florida's premiere source for buying and selling luxury watches and designer jewelry.