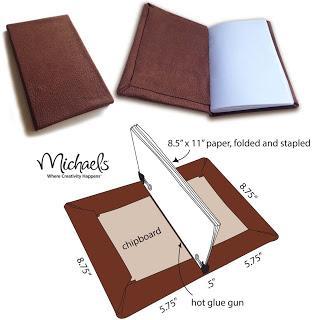 Here's my second project made with some of Michaels newly released craft fabric. I once make a book like this with woven fabric, but the problem was that the glue would seep through. Not good! This soft leathery looking fabric worked great and gives a luxurious look to some plain old chip board and paper.
1. Fold five sheets of 8.5" x 11" paper in half. Staple together on the fold. I used an extended stapler. Repeat to make five sections.
2. Cut two pieces of chipboard 8.75" x 5.75". Cut one 8.75" x .5".
3. Cut rectangle of fabric about 12" x 14".
4. Center chip board on wrong side of fabric and glue with glue stick. Wrap edges and glue again.
5. Clip the papers together and glue on flat edge with hot glue. Cover center chipboard spine with hot glue and attach as shown.
6. Cut rectangles of craft fabric to cover inside. Glue with white glue or hot glue.