Vegetables plays important role in Mexican cuisine which enhance the taste of dish. This time I prepared Mexican Tomato soup with topping of nachos and cheese. Kids love this soup just because of melted cheese and crunchy nachos, both gives nice texture to this recipe.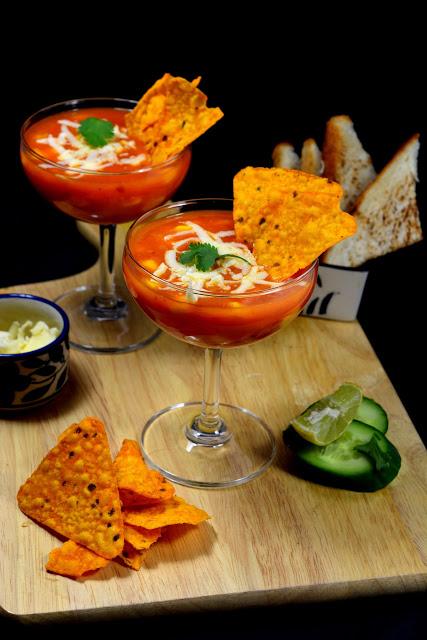 To prepare this recipe, you have to cook tomatoes and blend it as puree. After that mix the stir fry garlic, onion and corns with tomato puree in one pot.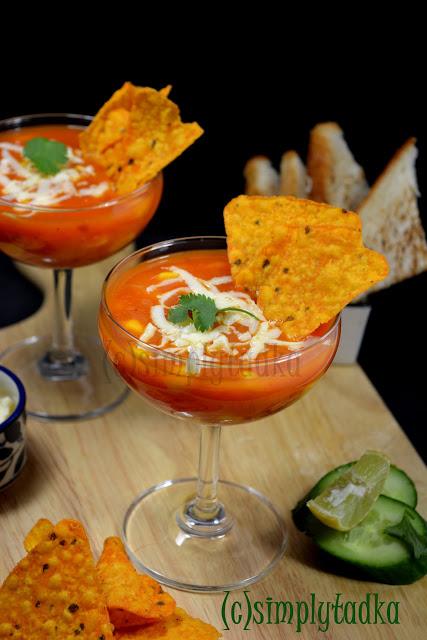 You can serve this soup with crispy garlic toast as complete meal. It's quite interesting and delicious soup compare to regular tomato soup. Even good for winter or monsoon season.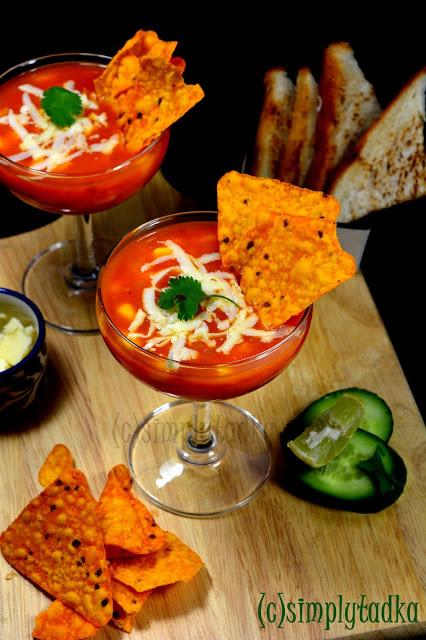 Mexican Tomato Soup with Nachos | Mexican Soup Recipe

Preparation Time: 15 Minutes Cooking Time: 15 Minutes Servings: 3 Category: Soup Cuisines: Mexican Cooking Method: Boiling

Ingredients 3 Cups Tomatoes, chopped 1 Cup Sweet Corn Kernels, Boiled 1/2 Cup Onion, Finely Chopped 1 Tbsp. Garlic, Finely Chopped 1 Tbsp. Cornflour Salt to Taste 1 Tsp. Sugar 1 Tbsp. Butter 1 Tsp. Olive Oil Chili Flakes to Taste Black Pepper to Taste 1/2 Cup Nacho Chips, Crushed 1/2 Cup Processed Cheese, Grated

Instructions Boil the chopped tomatoes with 1 cup water till to soft. After that blend it till to smooth. Now strain the tomatoes to remove the skins and seeds. Mix the cornflour and 1/4 Cup water together in separate bowl and keep aside. Heat the oil and butter together in non-stick pan. Now add chopped garlic and onion and saute till to translucent. Add boiled corn, tomato puree and corn flour mixture, mix well. Add chili flakes, sugar, salt and pepper powder and cook on medium flame for 5-8 minutes. Garnish with grated cheese and nacho chips and Serve hot.

Tags: how to make Mexican tomato soup, Mexican nacho soup, soups, stews, shorbas, side dish, winter recipes, tomato recipe, cheese, nachos, mexican cuisine, Mexican tomato soup recipe, simplytadka, food blogging, bloggingmarathon, boiling, blending, corn recipe, Mexican soup recipe, easy recipe, stir fry recipe.


Did you make this recipe? If yes, do let us know how it turned out in the comments below. Do share a picture with us [email protected]  or share on Instagram with hashtag #simplytadkarecipes and tag us @simplytadka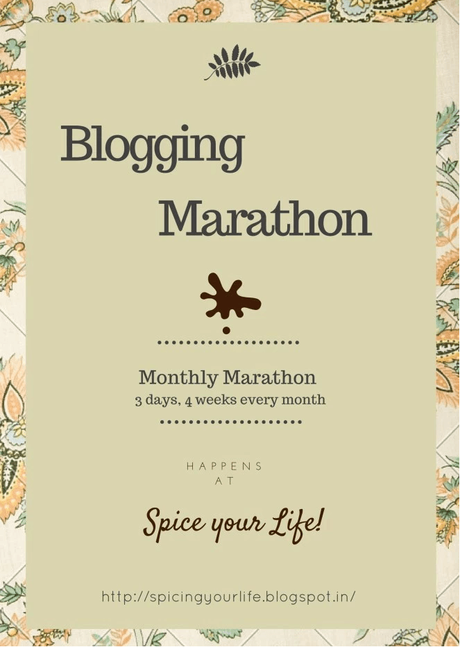 Check out the
Blogging Marathon page for the other Blogging Marathoners doing this BM#78
Enter your email address:
Delivered by
FeedBurner