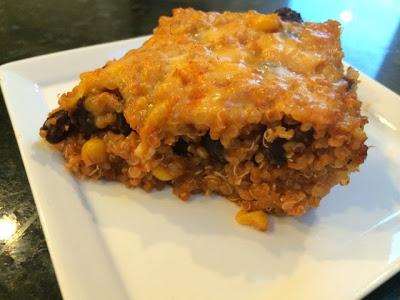 Ok, I won't lie. This is not the most beautiful picture I have ever taken of my food. Can you just take my word that this casserole is not only easy to make, but tastes delicious. SO delicious in fact that you will not miss that fattening Mexican food you are used to. I swear. Not only is this dish SUPER easy to make it is really versatile. You can throw whatever you have on hand in it. To stay with the mexican theme I added black beans, corn and chilies, but you can just as easily add sun dried tomatoes, spinach and feta and you have a Greek style dish. See.Easy.
I also used a sharp cheddar so I didn't have to use that much of it. I served this with some Greek yogurt and a side salad and I was one happy girl. I even went for seconds. Whatever, it's quinoa- don't judge me.  
Ingredients: 
1 cup cooked quinoa1/2 cup frozen corn1 can black beans drained1 small can diced green chilles1 pack of Frontera enchilada sauce ( all natural no crap in it) handful chopped cilantro1/2 cup sharp cheddar cheese
Directions:
1. Cook quinoa to packaged instructions and set aside. 2. Drain black beans and chilles and place in a large bowl. 3. Add frozen corn and quinoa. Add enchilada sauce and mix. 4. Spray a baking dish and spoon in mixture. 5. Top with cheese and bake at 350 for 20 minutes or until cheese is bubbly!