Toss crunchy jicama, tomato, fresh summer corn, black beans, and avocado with tart lime and cilantro to create a refreshing Mexican-inspired chopped salad.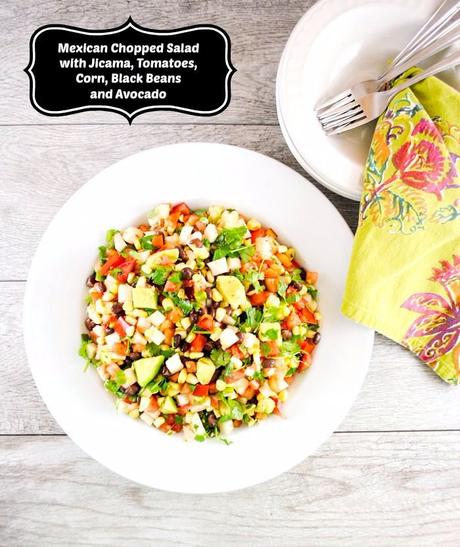 When I tire of leafy green salads, I start chopping and dropping as many crunchy vegetables as I can dig out of my vegetable bin into a bowl.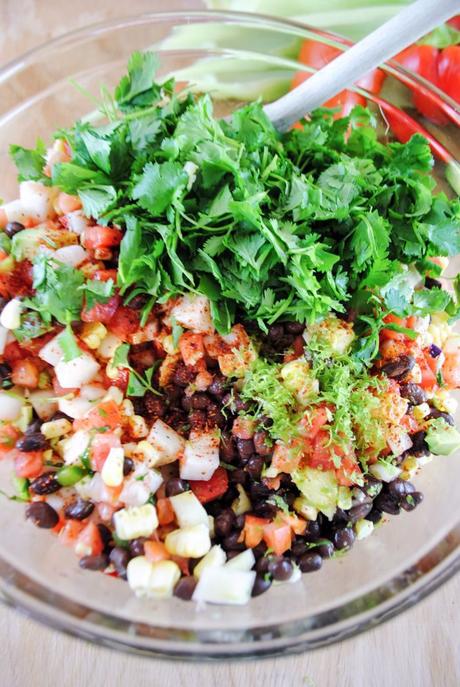 Jicama salads often make an appearance on the dinner menu. I like fresh flavor and delicate crunch jicama adds to a chopped salad, and it's wonderful this time of year combined with fresh from the farm kernels of sweet corn.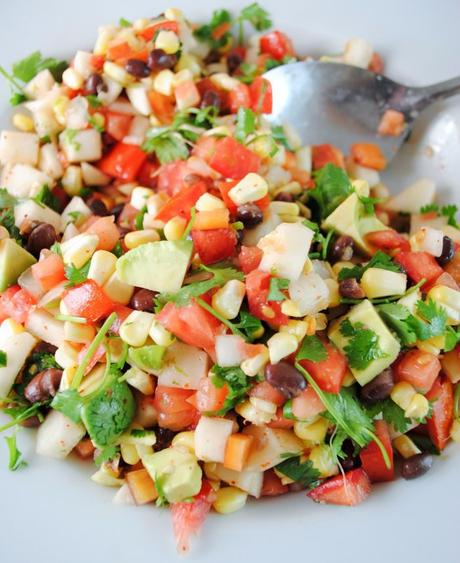 If you haven't tried Tajin, it's a seasoning blend consisting of Mexican chilies, lime juice, and sea salt. A coworker bought me a bottle of this tasty seasoning and I've been sharing it myself with friends. It's not too hot for most people, and the lime is fantastic on meats, salads and fruits.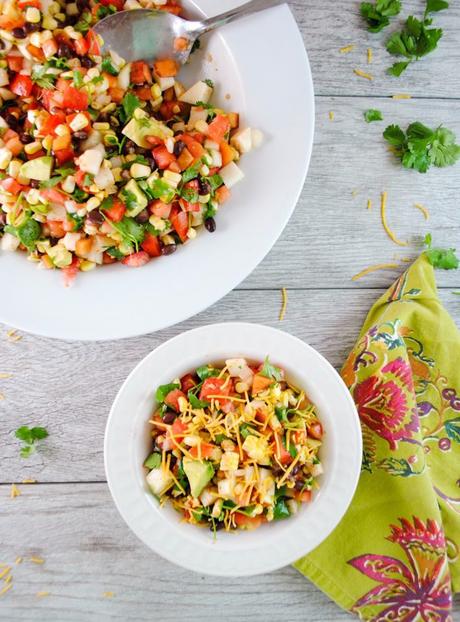 Avocado and black beans add creaminess and a dose of healthy fat and protein to this chopped salad making it a terrific meat-free option for a warm summer night when you aren't in the mood to fire up the grill.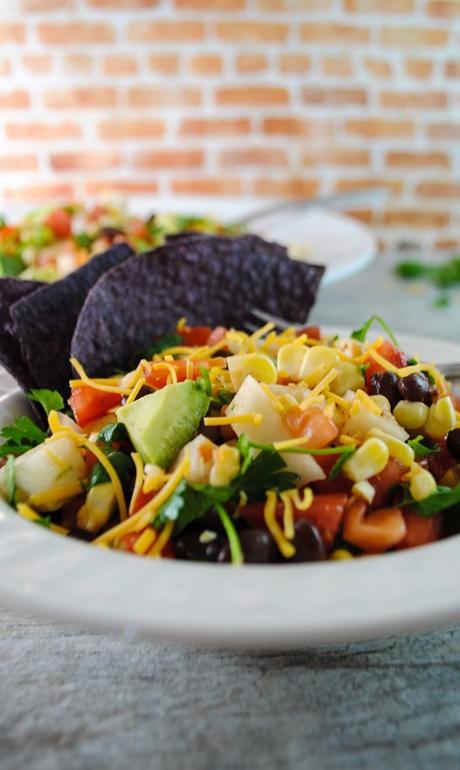 As you know, Mr. Mike has to have cheese on his salad, so his is topped with shredded cheddar cheese, though I was just as happy with salad and a few chips.
Shake It Up!
Add cojita, pepper jack, or cheddar cheese if you can spare the calories for the day. Leftover grilled chicken or cooked shrimp would turn this salad into a meal.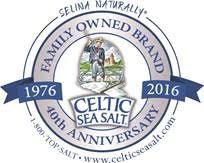 Before I head off to work for the day, I want to announce the winner of the Celtic Sea Salt giveaway is Robin Meroney. Congrats Robin! I know you'll enjoy these products as much as I do!
Mexican Chopped Salad with Jicama, Tomatoes, Black Beans and Avocado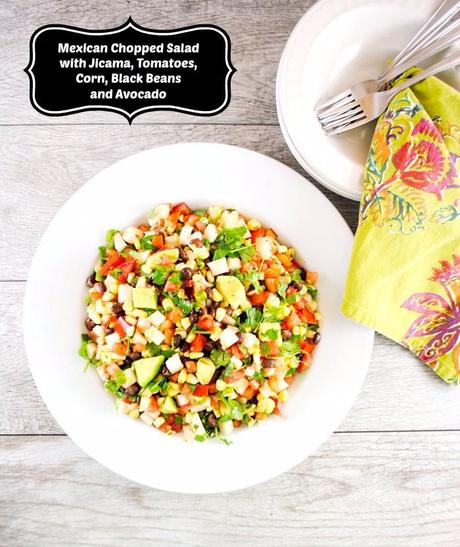 1 large red bell (capsicum) peppers, chopped
3 large Roma tomatoes, chopped
2 large corn on the cob, kernels removed
2 cups black beans
1 large jicama, chopped
10 ounces pico de gallo, store purchased
2 large avocado, chopped
1 tablespoon Tajin, a Mexican seasoning with peppers, salt, and dried lime, or use a Mexican seasoning blend (Start with ½ tablespoon blend and mix well, then test for taste, add more as needed.)
2 tablespoons olive oil
1 small lime, zested and juiced
1 bunch fresh cilantro, stems removed and lightly chopped
Combine ingredients in a large bowl and toss well. Chill for 15 - 30 minutes.
If you like this, then you'll love these!