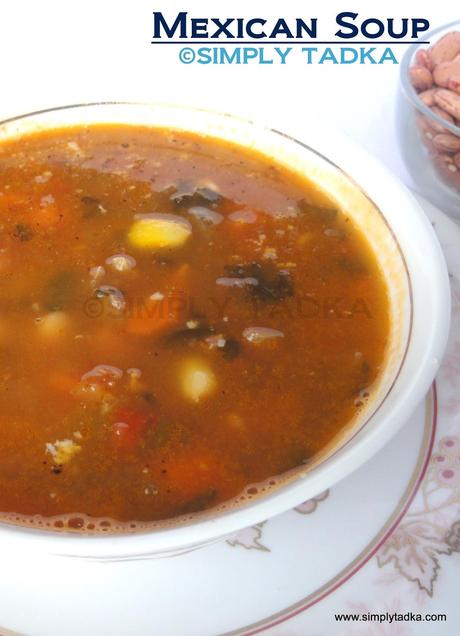 Mexican soup which made with chickpeas, beans and lots of vegetables that's gives you nutrition and warm in winter. Mexican food is as complex food as any of great cuisine in the world like Chinese, Indonesian and Turkey. Mexican cuisine is combination of such staples ingredients such as corn, chili peppers, tomatoes, avocados and vanilla and more.
However, the basis of the diet is still corn and beans with chili pepper as a seasoning as they are complementary foods.
Mexican bean soup is made with beans, chickpeas, corn and carrots with vegetable broth. Usually, tomatoes, chopped 
onions, and chopped cilantro are added, as well as crushed oregano and crushed red chili peppers. You can serve soup with tortilla chips or bread. It's really tasty and delicious treat for your eyes and your stomach both.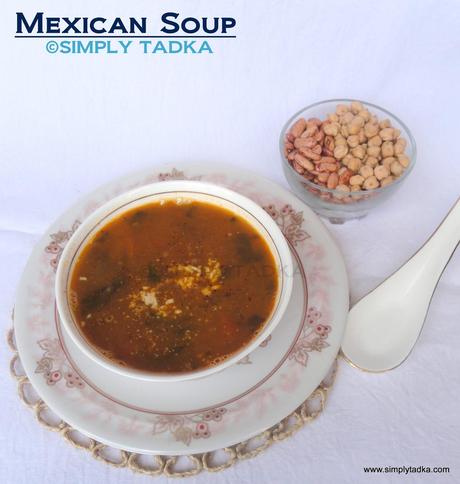 Preparation Time: 3 Hours
Cooking time: 40 Minutes
Servings: 3 Persons
Ingredients:
1/2 Cup Kidney Beans/ Rajma
1/2 Cup Chickpeas
1/2 Cup Corn
1 Carrot, Chopped
1 Medium Onion, Chopped
2 Medium Tomatoes, Chopped
1/2 Tsp. Ginger Paste
2 Cup Vegetable Stock
1 Tbsp. Canola Oil
1/2 Tsp. Cumin Powder
1/2 Tsp. Chili Flakes
1/4 Tsp. Oregano
1 Tsp. Coriander Powder
Chopped Fresh Green Coriander
Salt & Pepper, for seasoning
Cheese, grated for garnishing
Instructions
Wash and soak the beans and chickpeas for 4-5 hours.
Boil the both beans with water and salt till to 4-5 whistles. Keep boiled beans and water separate.
Heat the oil in pan. Add onion, ginger paste and cook till to slightly brown. Add tomatoes and cook till to little soft.
Add carrot, corn, boiled beans and chickpeas, cumin powder, coriander powder, oregano, chili flakes and vegetable stock. Cover and simmer for 20-25 minutes on low flame.
Add chopped coriander and seasoning with salt and pepper. Garnish with grated cheese.
Serve hot Mexican bean soup with bread sticks or corn chips.
Check out the 
Blogging Marathon page for the other Blogging Marathoners doing BM#31
Enter your email address:
Delivered by
FeedBurner