David Alden drops his new Masked Ball on the Met.
by
Paul J. Pelkonen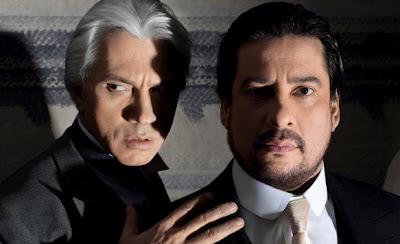 "Your Majesty, you have dandruff.": Dmitri Hvorostovsky (left) shares hair secrets
with Márcelo Àlvarez (right) in a publicity still for Un Ballo in Maschera. 
Image  © 2012 The Metropolitan Opera.
The Met continues its seven-opera celebration of Verdi's 200th birthday with this new production, staged by David Alden, the twin brother of director Christopher Alden, whose Mozart productions at New York City Opera have set the city a-twittering.
Verdi's 
Ballo
 is one of the composer's most popular operas, with an appealing mix of comic elements against the backdrop of personal tragedy and political assassination. It is also one with a confusing history. Roman censors objected to the libretto of 
Gustavo III
 depicting an historic event: the assassination of Swedish King Gustav III at a masked ball in 1792. Verdi transported the action to colonial Boston, and poor King Gustav became "Riccardo, Count of Warwick."
The season hasn't even started yet, and there's already been a shuffle-
Ball-
change (Ha!) in the cast of the company's new David Alden production of
Un Ballo in Maschera.
That change: Sondra Radvonovsky, who steps in for Karita Mattila as Amelia, the tormented leading lady.
Mr. Alden has chosen to go with the for the Swedish version. Tenor Marcelo Àlvarez plays Gustavo, whose extracurricular interests include Amelia, the wife of his advisor Count von Anckarström (Dmitri Hvorostovsky). Dolora Zajick and Stephanie Blythe alternate performances as the fortune-telling witch Madame Arvidson. This cast last sang together in the company's 2010
Il Trovatore
, and the results were electric.
Un Ballo in Maschera
opens Nov. 8.
Recording Recommendations:
Ballo
has a healthy discography, with major recordings featuring all three of the three tenors and great singers of the past.
Metropolitan Opera Orchestra and Chorus
cond. Dmitri Mitropoulos (Live recording from 1955, released on Sony Classical in 2011.)
Riccardo/Gustavo:
Jan Peerce
Anckarström/Renato
: Robert Merrill
Amelia:
Zinka Milanov
Ulrica:
Marian Anderson
Oscar
: Roberta Peters
This magnetic live recording is notable for the presence of Marian Anderson as Ulrica. In 1955, the African-American mezzo-soprano broke the color barrier at the old Met in these performances. Aside from its historic nature, this set also features an old-school cast of stars: tenor Jan Peerce, baritone Robert Merrill, and sopranos Zinka Milanov and Roberta Peters.
Coro e Orchestra della Scala
cond. Claudio Abbado (DG, 1981.)
Riccardo/Gustavo:
Plácido Domingo
Anckarström/Renato
: Renato Bruson
Amelia:
Katia Ricciarelli
Ulrica:
Elena Obratszova
Oscar
: Edita Gruberova
The Deutsche Grammophon all-star opera players made some fine recordings with Claudio Abbado at La Scala in the '70s and '80s. This
Ballo
is firmly in the middle of the pack. Plácido Domingo's voice hadn't hardened and spread yet--this is the better of his two recordings of this opera. Renato Bruson does a credible acting job chronicling Renato's jealousy and breakdown. There are some reservations about the ladies here, but the conducting is first-rate.
Return
to the
Superconductor 2012-2013 Metropolitan Opera Season Preview.