The Met's unloved 2009 staging (by Luc Bondy) returns.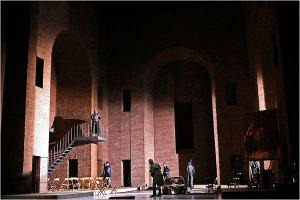 The set for Act I of Tosca. That's supposed to be a church in Rome, Italy.
Photo by Ken Howard © 2009 The Metropolitan Opera.
When this production of
Tosca
opened the Met's 2009 season, it was the subject of widespread derision and disdain. Director Luc Bondy scrapped the elaborate sets and faux-authentic costumes of Franco Zeffirelli's staging. Richard Perduzzi's sets made the opera look like it was set in and around a large brick brewery.
What made matters worse were Mr. Body's directorial "touches." Scarpia had prostitutes (and statuary) to satisfy his carnal needs. The firing squad lined up in an arc, guaranteeing more than one death on the awkward Act III set. Worst of all, Tosca's famous flying leap (from the battlements of the
Castel di Sant'Angelo
) was made into a bizarre flight metaphor using a suspension harness and a dummy tarted up to look like Karita Mattila.
Things were better in the Spring revival of 2010, with impressive performances from Patricia Racette, Bryn Terfel and Jonas Kaufmann. The flying leap and the statue-humping were both cut. Mr. Bondy returned for last year's run. He kept adding more "touches": Scarpia macked on the statue of the Madonna, and Cavaradossi played chess with his jailor.
Well, here it is again. Roberto Alagna sings the first two performances opposite Ms. Racette. George Gagnidze is Scarpia.
Recording Recommendations:
Coro e Orchestra della Scala
cond. Victor de Sabata (EMI, 1953)
Floria Tosca:
Maria Callas
Mario di Cavaradossi:
Giuseppe di Stefano
Baron Scarpia:
Tito Gobbi
The 1953 mono EMI set is
the
classic Maria Callas recording of
Tosca
. All of her affectations, flaws and nuances are present, in magnificent (and immediate) EMI mono sound. The "Vissi d'arte" is divine. Di Stefano had not yet begun his steep vocal decline, and Gobbi is a perfect bastard of a police chief. Accept no substitutes--
not even her 1965 stereo remake with Carlo Bergonzi.
Note
: do
not
buy the 1997 remastered version in the black slipcase with the black-and-white Callas photo: the remastering engineer made a serious error and it made it onto some of the CDs. The problem was corrected on the 2009 pressing.
Vienna Philharmonic
cond. Herbert von Karajan (Decca, 1962)
Floria Tosca:
Leontyne Price
Mario di Cavaradossi:
Giuseppe di Stefano
Baron Scarpia:
Giuseppe Taddei
This is Leontyne Price's first recorded
Tosca
, and it remains a superb set. Although di Stefano had roughened over the nine years that separate these recordigs, he is still a tremendous presence as Cavaradossi. Ms. Price brings a different, compelling interpretation to the title role and Taddei is a nasty Scarpia. Herbert von Karajan and the Vienna forces make a formidable pairing, and their playing is inspired. So is the recording: an early example of the Decca Sonicstage technique developed by producer John Culshaw.
Return to the Metropolitan Opera Season Preview!