Mozart's family-friendly fable returns, this time in English.
by
Paul J. Pelkonen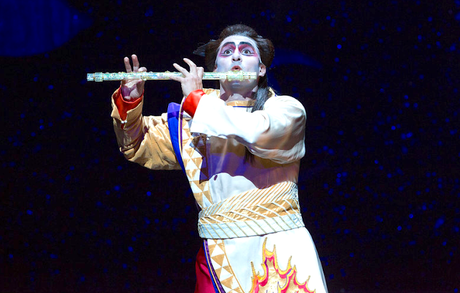 Jazz flute solo? No it's Charles Castronovo as Prince Tamino in The Magic Flute at the Met.
Photo © Richard Termine courtesy the Metropolitan Opera.
This is the first of two holiday productions at the Met this winter: a shorter English-language version of Mozart's
The Magic Flute
. Apparently,
some
 opera journalists have jokingly dubbed this version of the opera
The Magic Piccolo
.  Who writes this stuff? (Oh wait, I do.)
What is The Magic Flute?
This is Mozart's last opera, written not for the court theater but for the popular theater in Vienna managed by his friend Emanuel Schickenader. It mixes different musical styles together but from the whizzing overture to the majestic final chorus, it remains one of Mozart's most enduring and popular works. This year, the Met performs its truncated 100-minute intermission-less version. It's oriented toward young listeners.
What's The Magic Flute about?
Tamino, a young prince, goes on a series of quests, first to rescue the maid Pamina from the clutches of the wizard Sarastro. When he learns that Sarastro and his order are on the side of light and virtue, the prince and his sidekick Papageno go on a quest. Tamino wants to join the order of the priests, with Pamina at his side. Papageno wants a good meal, a bottle of wine, and a lovely mate to raise a flock with.
Why should I go see The Magic Flute?
This is a perfect introduction to the opera for young people, compressed into a lean evening. If you have kids interested in the arts, there is nothing more visually stimulating or musically heart-warming than Mozart's final score.
Flute
combines traditional show-stopping arias with less conventional comic numbers delivered by the bird-catcher Papageno. These have become some of Mozart's most popular tunes.
Who's in it?
This year's
Flute
features the welcome return of Nathan Gunn as Papageno, surrounded by a cast of young singers. They are led by tenor Charles Castronovo as the heroic Tamino and bass Tobias Kehrer as the priest Sarastro. German soprano Hanna-Elisabeth Müller is Pamina, the object of Tamino's quest who becomes a character in her own right. The Queen of the Night's two arias will be sung by Kathryn Lewek who returns from last season's cast. Evan Rogister conducts all performances.
How's the production?
This is Julie Taymor's lone production for the Metropolitan Opera, and one of the maverick Broadway director's most inspired creations. The birds, bears and beasts spring to vivid life as shadow puppets, lending color and distinct visual style to Tamino's quest for personal and spiritual enlightenment. This is a shorter English-language version of
The Magic Flute
. As this is a
singspiel
, the music will stop for spoken dialog between numbers.
When does The Magic Flute open?
The opera returns to the Met repertory on November 25. Please note that matinee performances are offered throughout the holiday season.
Where do I get tickets?
Tickets  are available through MetOpera.Org or by calling the box office at (212) 362-6000. You can save service fees by going to the box office in person at the Met itself, located at 30 Lincoln Center Plaza. Hours: Monday to Saturday: 10am-8pm, Sunday: 12pm-6pm.
Which recordings do you recommend?
There are a flood of recordings of
Flute
. Singers, conductors and sound engineers scrambled to leave their mark on this beloved opera and its colorful characters. Here are three that are exceptional. Sorry, they're all in German. Because this opera is better in German. It just is. Funnier too.
Philharmonia Orchestra cond. Otto Klemperer
(EMI/WBC 1960)
Otto Klemperer's muscular approach to Mozart isn't for everyone. But the German conductor knows the score inside and out and commands a great cast on this recording made for EMI. The opening chords of the overture have Beethoven-like weight and the scene with the Two Men in Armor (cut from this current Met staging) has the power to send chills down your spine. (Maybe that's why it was cut.) Klemperer has an all-star cast with Nicolai Gedda, Gundula Janowitz, Gottlob Frick, Lucia Popp and Walter Berry leading the way.
Berlin Philharmonic cond. Karl Böhm
(DG, 1964)
And you thought the cast for the Klemperer version was good. (It is.) This one is better! Fritz Wunderlich, Roberta Peters, Evelyn Lear, Franz Crass and Dietrich Fischer-Dieskau are the four heavyweight reasons to hear this light-footed
Flute
, a DG recording that is always my first recommendation to people who want to get to know the opera better. Some of the spoken dialog is included, with a few judicious cuts.
English Baroque Soloists cond. John Eliot Gardiner
(DG Archiv, 1995)
Modern digital sound and period instruments with the opera played at a break-neck tempo. The last and the best of the Gardiner Mozart series and a coming-out party for star baritone Gerald Finley.