Thomas Adès' new opera comes to the Met stage.
by
Paul J. Pelkonen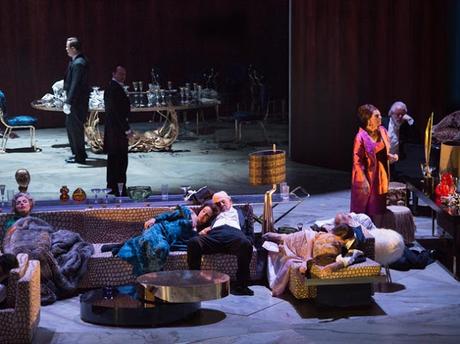 A scene from The Exterminating Angel.Image courtesy Royal Opera of Covent Garden.
British composer Thomas Adès, known for his operas
Powder Her Face
and
The Tempest
adapts the 1962 Luis Buñuel film for the stage. In this new work, surreal comedy becomes survival5 drama as the guests at a very strange dinner party find that, come the next morning, they are not allowed to leave.
What is The Exterminating Angel?
This is Thomas Adès' new opera based on the film. It premiered at Salzburg in 2016 and was also performed this year at the Royal Opera House at Covent Garden. Its strange story is either fascist metaphor or bourgeois satire, depending on one's point of view. This is the Met's first performance of the opera and its North American premiere.
What's The Exterminating Angel about?
A guy who works as an exterminator in New York starts sniffing his own roach powder...oh wait that's the plot of
Naked Lunch!
A group of socialites, aristocrats, artists and even an opera singer have a banquet together and decide to rough it overnight. The next morning, a mysterious force stops them from leaving, and the group descends into barbarism. Think
Lord of the Flies
if all the characters were adults.
What's the music like?
New Yorker
critic Alex Ross, who saw this show in Salzburg and reviewed it under the title "No Exit"  describes a large principal cast of eight singers with a total of twenty-two roles. Adès writes for a dense, expanded orchestra, with heavy brass, percussion, bells and even an
ondes Martenot
, the strange 20th century electronic instrument used in the music of Oliver Messiaen.
Who's in it?
The cast features a veritable spectrum of great singers, from bass John Tomlinson and baritone Rod Gilfry to mezzo-soprano Alice Coote. The star here is the extraordinarily  high soprano Audrey Luna, star of Mr. Adès' earlier
The Tempest
. Mr. Adès conducts.
How's the production?
There will be a review on this blog soon after the opera opens, assuming we're allowed to leave the opera house. It is a shared production with Covent Garden.5
Why should I see it?
It's a new opera and one by a major composer based on a great film.
When does it open?
The Exterminating Angel
 opens Oct. 26.
Where can I get tickets?
Tickets  are available through MetOpera.Org or by calling the box office at (212) 362-6000. You can save service fees by going to the box office in person at the Met itself, located at 30 Lincoln Center Plaza. Hours: Monday to Saturday: 10am-8pm, Sunday: 12pm-6pm.
Is there a Live in HD broadcast planned?
Yes, it's on Nov. 18.