It's time to go back to the

Island as the Met revives its baroque pastiche.
by Paul J. Pelkonen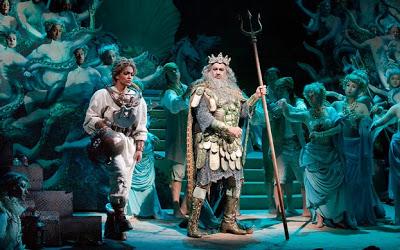 Underwater love: Danielle de Niese (in drysuit) and Plácido Domingo (with trident)
in a scene from Act I of The Enchanted Island.
Photo by Ken Howard © 2011 The Metropolitan Opera.
(
Editor's note:
As this is the Met's revival of a pastiche, this preview is largely built from the January 5
Superconductor
review of 
The Enchanted Island "
Down With the Ship (Slight Return.)" 
You've got to have your fun when you can get it. )
"Pastiche, the art of pasting together songs by different composers to make a new, playable work of art, has a long history, from the Shakesperean masques of Henry Purcell to Baz Luhrmann's film 
Moulin Rouge!
. By combining Shakespeare's
 The Tempest
 with characters from 
A Midsummer Night's Dream
, Mr. Sams and Mr. Gelb (working with baroque conductor William Christie) created a sampler platter of the genre.
"For this work of theatrical artifice, Mr. McDermott chose a deliberately artificial look. The spectacle combines elaborate costumes (by Kevin Pollard) moving prosceniums and scrims (by Mr. Crouch) and imaginative digital projections (by 59 Productions) in a way that would have drawn the envy of the Blackfriars Theater."
Actual information about these performances:
David Daniels returns as Prospero for this revival, with Susan Graham taking over the role of Sycorax from Joyce DiDonato. Other returning sprites and fairy folk include Danielle de Niese's high-wire performance as Ariel, Anthony Roth Costanzo as Ferdinand and Luca Pisaroni's soulful interpretation of Caliban. And yes, some dude named Plácido Domingo will be back in the show-stopping role of King Neptune. Patrick Summers takes over conducting duties
The Enchanted Island
returns on Feb. 26.
Recording Recommendations:
Since 
The Enchanted Island
 is a new work, no recordings are available. But as it's made from music by Handel, Rameau and Vivaldi, I decided to recommend one opera by each composer.
Handel: Alcina (1735)
Les Arts Florissants
cond. William Christie (Erato, 2000)
This recording is a superb entry point for the budding baroque enthusiast.
Alcina
is one of Handel's most inspired operas. But the selling point of this set is the cast, with Renée Fleming, Natalie Dessay and Susan Graham in what she does best, a trouser role. William Christie conducts a brisk, energetic performance.
Vivaldi: Motezuma (1733)
Il Complesso Barocco
cond. Alan Curtis
(DG Archiv
, 2006)
Antonio Vivaldi is best remembered for his violin concertos, particularly
The Four Seasons.
But the "Red Priest" claimed to have written 94 operas in his lifetime. (To be fair, a number of them may have been
pasticci.
) Today, about twenty survive.
Moctezuma,
from 1733 and based on the story of Montezuma and Cortez, is one of the more interesting ones.
The opera was thought lost, until the score was found in the archive of  the
Sing-Akademie zu Berlin
, a choral association. The library had been "liberated" to Kiev by the Red Army following the fall of Berlin in 1945. Brought back to Germany, it was discovered in 2002. Tautly played by Alan Curtis and his experienced period ensemble, and in stellar DG sound.
Rameau: Hippolyte et Aricie (1733)
Les Musiciens de Louvre
cond. Mark Minkowski (
DG Archiv
, 1995)
The first opera by the 50-year-old Rameau is based on
Phèdre,
a play by Racine. The story deals with the Greek hero Theseus, his son Hippolytus, and his love for Aricia, the daughter of his enemy who breaks her vow of chastity.
Rameau's opera, which also premiered in 1733 marked a turning point in the development of opera, from the old
tragedie de Musique
style of Jean-Baptiste Lully toward the theatrical reforms of Christoph Willibald Gluck. Rameau had to fight to get his work accepted and performed. Tickets for 
The Enchanted Island
 are available at 
MetOperaFamily.Org
, by calling (212) 362-6000, or at
the box office
starting August 11.