The most famous French opera with an umlaut in the title.
by Paul J. Pelkonen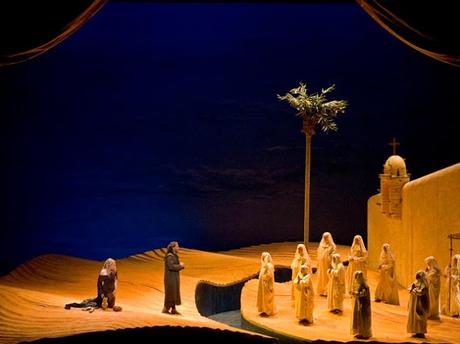 A scene from the Met's first run of Thaïs with Renée Fleming (left) and Thomas Hampson.
Photo courtesy the Metropolitan Opera 
The Met revives Massenet's most sensuous opera as a vehicle for soprano Ailyn Pérez and stud baritone Gerald Finley.
What is Thaïs?
This French opera is the story of the title character, an Egyptian courtesan who  finds God, and about the downfall of the holy man who is obsessed with her to an alarming degree.
What's Thaïs about?
This is the story of a sensual, professional woman and priestess of Venus who converts and finds Christian faith, and about the moral and ethical downward spiral of Athanaël, the holy man who becomes obsessed with her considerable charms. It is an intimate drama and heart-rending with the right voices.
What's the music like?
Massenet was a master melodist and this opera is no exception. Ironically, the best known piece from it is instrumental: the "Meditation with its extensive violin solo.
Who's in it?
Ailyn Pérez and Gerald Finley will generate real heat in this revival. Jean François Borras plays the smaller role of Nicïas, Thaïs' best and most loyal customer.
How's the production?
Sensual visuals for an opera set in the exotic land of Egypt. A lot of browns and blues.
Why should I see it?
Because the leads are absolute gold and ideally suited to this difficult though melodious work.
When does it open?
Thaïs
opens for business Nov. 11.
Where can I get tickets?
Tickets  are available through MetOpera.Org or by calling the box office at (212) 362-6000. You can save service fees by going to the box office in person at the Met itself, located at 30 Lincoln Center Plaza. Hours: Monday to Saturday: 10am-8pm, Sunday: 12pm-6pm.
Is there a Live in HD broadcast planned?
No. More's the pity, this is a good cast.
Recording Recommendations:
Thaïs
is not recorded often. However, there are versions available with three famous star sopranos in the title role: Anna Moffo, Beverly Sills and of course, Renée Fleming. The Sills recording has the best cast and conductor in opera veteran Lorin Maazel.