Part III of the new Ring Cycle, directed by Robert Lepage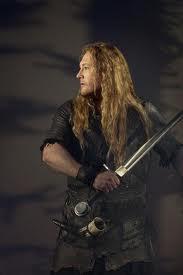 Let's hear it for the boy:
Gary Lehman as Siegfried.
Photo by Brigitte Lacombe
© 2011 The Metropolitan Opera.
Richard Wagner conceived
Siegfried
as the "light" part of the
Ring
, played between
Die Walküre
and
Götterdämmerung.
But
Siegfried
has always been the least popular chapter of the cycle.
In all fairness, it's five hours long. And there are no onstage female characters until the last 45 minutes.
But
Siegfried
is a dark horse, one of Wagner's finest works with a deep, insightful character study of a not-too-bright lad who grew up with a dwarf. It is also an important opera in the composer's development, bridging his "middle" and "late" styles.
The latest installment of the Robert Lepage cycle should feature some new gyrations for the Machine, possibly taking the form of a dragon. It also will feature a new 3D projection technology for the forest scene that doesn't require those stupid glasses.
Gary Lehman takes on the title role: the hardest tenor role in opera. Siegfried is onstage for most of the opera, and it's an exhausting part:
Act I: Our hero has to bellow the Forging Song while operating an actual bellows.
Act II: He sings to a bird, kills a dragon and rubs out a dwarf.
Act III: After a short rest, our hero, (having already sung for four hours) wakes up the soprano for a lung-busting 37-minute love duet.
With Deborah Voigt as Brunnhilde and Bryn Terfel singing the Wanderer: Wotan in a new hat.
Recording recommendations:
It used to be easier to buy a stand-alone recording of
Siegfried
, but record company consolidations and reissues mean that most versions of the opera are available as part of complete
Ring
recordings. Here are some good ones:
Bayreuth Festival cond. Karl Böhm (Philips/Decca 1967)
Siegfried:
Wolfgang Windgassen
Brunnhilde:
Birgit Nilsson
Mime:
Erwin Wohlfahrt
The Wanderer (Wotan):
Theo Adam
Fafner
Kurt Bohme
Nilsson and Windgassen in prime voice. The rest of the cast isn't perfect, but this is an exciting live performance in good sound in front of a real audience. Karl Böhm, an expert Wagnerian keeps things moving along briskly in the pit. Part of the budget-price reissue of the Böhm
Ring
.
Berlin Philharmonic cond. Herbert von Karajan (DG 1968)
Siegfried:
Jess Thomas
Brunnhilde:
Helga Dernesch
Mime:
Gerhard Stolze
The Wanderer (Wotan):
Thomas Stewart
Fafner:
Karl Ridderbusch
Not everyone likes Karajan's studio
Ring
but he brings out the fascinating details of the score. Sumptuous playing from the Berlin Philharmonic. Jess Thomas is good as Siegfried. Thomas Stewart, exceptional as the Wanderer.
Bayreuth Festival cond. Daniel Barenboim (WBC 1995)
Siegfried:
Siegfried Jerusalem
Brunnhilde:
Anne Evans
Mime:
Graham Clarke
The Wanderer (Wotan):
John Tomlinson
Fafner
Philip Kang
Recently reissued, the Barenboim performance was recorded in the Festspielhaus without an audience. This is Siegfried Jerusalem's best recorded performance in the role that bears his name. Graham Clarke is characterful as Mime. John Tomlinson and Anne Evans were cast against type, but both singers thrive in the Bayreuth acoustic.