The third part of Wagner's Ring is also the greatest challenge for the tenor voice.
by
Paul J. Pelkonen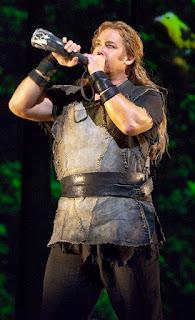 Come blow your horn: Jay Hunter Morris as Siegfried.
Photo by Ken Howard © 2011 The Metropolitan Opera.
Although it's part of the Met's much-hyped Robert Lepage production of the
Ring
Cycle, Wagner's
Siegfried
might have the worst reputation among the ten operas that are considered to be the German composer's main body of work. Wagner conceived the opera as the "light-hearted" section of the
Ring
, and in all fairness it does have a happy ending!
Since the
Meister
of Bayreuth did everything on a big scale, that means that this "boy's adventure tale" lasts a solid five and a half hours taking place over three long acts. Also, the soprano doesn't show up until 45 minutes from the opera's end, where she sings a long duet with an already exhausted tenor.
With all of these peccadilloes,
Siegfried
might be the easiest Wagner opera to score tickets to. It also has some really fine music, assuming that the tenor has a powerful, heroic voice that can get over the huge orchestra without punching a hole in your eardrums.
Jay Hunter Morris will platoon in the lead role with tenor Lars Claveman. Deborah Voigt will split cycles too with soprano Katherine Dalayman. Mark Delavan sings his first Wanderer at the Met.
A review of the opening night of
Siegfried
from October of 2011 can be
found here
Siegfried
opens April 20, 2013. Please note that the Saturday matinée performance starts at the ungodly hour of 11am. All other performances start at 6pm.
Recording recommendations:
It used to be easier to buy a stand-alone recording of
Siegfried
, but record company consolidations and reissues (not to mention all those unsold copies of the individual opera) mean that most versions of the opera are available as part of complete
Ring
recordings. Here are some good ones:
Bayreuth Festival 1967
cond. Karl Böhm (Philips/Decca 1967)
Siegfried:
Wolfgang Windgassen
Brunnhilde:
Birgit Nilsson
Mime:
Erwin Wohlfahrt
The Wanderer (Wotan):
Theo Adam
Fafner:
Kurt Bohme
Nilsson and Windgassen in prime voice. The rest of the cast isn't perfect, but this is an exciting live performance in good sound in front of a real audience. Karl Böhm, an expert Wagnerian keeps things moving along briskly in the pit. Part of the budget-price reissue of the Böhm
Ring
.
Bayreuth Festival 1991
cond. Daniel Barenboim (WBC 1995)Siegfried: Siegfried Jerusalem
Brunnhilde:
Anne Evans
Mime:
Graham Clarke
The Wanderer (Wotan):
John Tomlinson
Fafner:
Philip Kang
Recently reissued, the Barenboim performance was recorded in the Festspielhaus without an audience. This is Siegfried Jerusalem's best recorded performance in the role (he recorded the part three times if you count once on video!) that bears his name. Graham Clarke is characterful as Mime. English singers John Tomlinson and Anne Evans were cast against type, but both thrive in the Bayreuth acoustic.
Return
to the 2012-2013 Metropolitan Opera Season Preview!