It's like The Little Mermaid but with more death.
by
Paul J. Pelkonen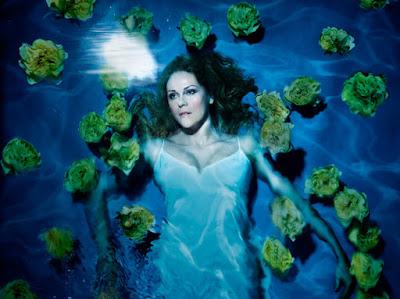 Appertizing bait: Kritine Opolais is Rusalka in the Met's new production of the Dvořák opera.
Photo © 2016 The Metropolitan Opera.
The Met plunges into a new production of Dvořák's
Rusalka
, a Czech fairy tale with gorgeous music and a dark but oh-so-Romantic ending. Kristine Opolais sings the title role, which has become one of her signature parts in recent years.
What is Rusalka?
This is the only opera by Antonín Dvořák to make a dent on the operatic repertory outside the composer's Czech homeland. A fairy tale with gorgeous melodies and a Wagnerian sweep, it has become something of a specialty at the Met in recent years. Here it is presented in a new staging by director Mary Zimmerman.
What's Rusalka about?
This is a fairy-tale with a tragic ending. A young water-spirit falls in love with a handsome Prince. Although she obtains a potion to pursue him on dry land, he spurns her for another princess. Returning to the lake, he drowns in her arms.
What's the music like?
Dvořák is one of the greatest Czech composers, but he is known in the U.S. for his symphonies, tone poems and string quartets. An exploration of his operatic repertory is worth the time of any opera lover.
Rusalka
shares chromatic melodies, extended arias and sugar-sweet orchestration with Wagner's "middle period" operas with a dollop of folksy lyricism that marks the music as distinctly Dvořák. The big hit in this opera is the "Song to the Moon" which ends the first act.
Who's in it?
Kristine Opolais is the titular mermaid and Brandon Jovanovich is her doomed but oh-so-handsome Prince. Eric Owens sings the key role of the Water Goblin and Wagnerian soprano Katerina Dalayman sings the part of the Foreign Princess. Jamie Barton is the witch Je
ži
baba. Mark Elder conducts.
How's the production?
According to the Metropolitan Opera website, this new production by Mary Zimmerman "takes place in an unspecified fairy-tale setting." What that actually means is that this will resemble a "traditional"production, although Ms. Zimmerman is known for giving 19th century Romantic operas her own personal
regie
twist.
Why should I see it?
You should see
Rusalka
if you like gorgeous symphonic music and the operas of Wagner. Also, this new production has a strong cast of young singers. You should see it if you liked Ms. Zimmerman's wicked and funny staging of
Lucia di Lammermoor
. And let's not forget, it's essentially
The Little Mermaid
with (much) better music and a very unhappy ending.
When does it open?
The new production of
Rusalka
opens on Feb. 2, 2017. The obligatory
Live in HD
performance is scheduled for Saturday, Feb. 25.
Where can I get tickets?
Tickets  are available through MetOpera.Org or by calling the box office at (212) 362-6000. You can save service fees by going to the box office in person at the Met itself, located at 30 Lincoln Center Plaza. Hours: Monday to Saturday: 10am-8pm, Sunday: 12pm-6pm.
Which recording should I get?
Czech Philharmonic Orchestra cond. Sir Charles Mackerras
(Decca, 1998)
The late Sir Charles Mackerras was brilliant in Czech repertory. On this, the first major-label recording of Dvorak's most popular opera, he has an international cast led by RenéeFleming captured in her absolute prime. Also, if you want to hear why opera lovers used to be excited about Canadian heldentenor Ben Heppner, this is one of his better recordings. He is perfect casting as the hapless Prince.