The Met unveils its new production...set in...Las Vegas?
by
Paul J. Pelkonen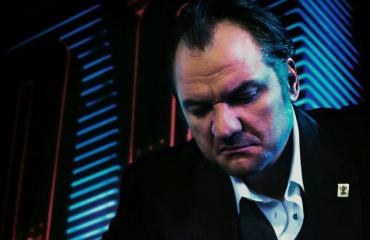 Vega$, baby! Zeljko Lucic stars in Verdi's tragedy.
Promotional image for Rigoletto © 2012 The Metropolitan Opera.
When Verdi announced Victor Hugo's Le Roi s'Amuse as the subject of his 17th opera, Venetian forced the composer and his librettist to retitle the opera, change the names of all the characters, and move the action to Mantua. With this new production, director Michael Mayer goes the censors one better, moving the action to fabulous Las Vegas, Nevada. (At least he didn't re-name the characters.)
Mr. Mayer's production (his first for the Met) is meant to evoke the "Rat Pack" era of the 1950s, when Frank Sinatra and crew held sway over the Strip. Wherever it's set, this remains the powerful tragedy of an overprotective father, his beautiful daughter and his lecherous boss. It is Rigoletto's own "fear and loathing" that inadvertently brings about the demise of the one person he truly loves.
Despite the uprooting of the characters, the cast is consistent with last year's Rigoletto. Zeljko Lucic returns as Rigoletto, opposite the Gilda of German soprano Diana Damrau. Piotr Beczala should be a handsome-voiced Duke, but don't expect him to break into "Fly Me to the Moon."
Rigoletto premieres Jan. 28, 2013.
Recording Recommendations:
Rigoletto
is the opera that cemented Verdi's reputation as a master of Italian opera, and the first of his "big three" with
Il Trovatore
and
La Traviata
immediately following. There are some great recordings in the catalog. Here's two:
Coro e Orchestra del La Scala 
cond. Rafael Kubelik (DG, 1961)
Rigoletto: Dietrich Fischer-Dieskau The Duke: Carlo Bergonzi Gilda: Renata Scotto Kubelik conducts an intelligent reading of the score featuring Fischer-Dieskau as the hunchbacked jester. The German 
lieder
 specialist acquits himself well in Italian. Carlo Bergonzi is a fabulous, virile Duke, well matched with the young Renata Scotto.
Vienna Philharmonic cond. Carlo Maria Giulini (DG, 1980)
Rigoletto: 
Piero Cappuccili
The Duke:
 Placído Domingo
Gilda:
 Ileana Cotrubas Giulini's methodical approach to the score is not loved by everybody, but the man conducted a fine Rigoletto. Domingo makes a rare foray into bad-guy territory here, reaching to the very top of his voice and virility.  The great Piero Cappuccilli is the thinking man's Rigoletto: equal parts monster and caring father in the title role.
Orchestra dell'Accademia di Santa Cecilia
 cond. Giuseppe Sinopoli (Philips/Decca, 1984)
Rigoletto:
 Renato Bruson
The Duke
: Neil Shicoff
Gilda:
 Edita Gruberova For some bizarre reason, the late Giuseppe Sinopoli eliminated the "extra" high notes that thrill lovers of 
Rigoletto
. His version is a bizarre, Shakespearean drama through a cracked looking glass, but a powerful listening experience. Renato Bruson is a towering hunchback, well matched with the silvery Edita Gruberova.
Return
to the
Superconductor 2012-2013 Metropolitan Opera Season Preview.
Contact the author: E-mail 
Superconductor
 editor 
Paul Pelkonen
.