Johan Botha and Renée Fleming return in this anticipated revival.
by
Paul J. Pelkonen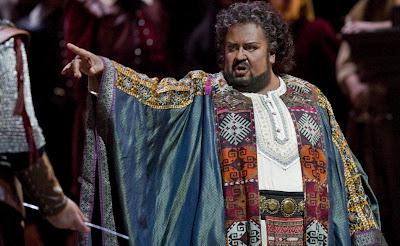 A formidable general: Johan Botha as Otello.
Photo by Ken Howard © 2009 The Metropolitan Opera.
The Met continues its 2012 celebration of Giuseppe Verdi's 200th birthday (which isn't until October 10, 2013) with this revival of 
Otello
. The fall performances reunite South African heavyweight tenor Johan Botha with the glamorous Renée Fleming as the jealous Moorish general and his wife: desperately in need of couples counseling. Falk Struckmann is an oily, Germanic Iago. Semyon Bychkov, who led this opera at the Met in 2010 with the same cast conducts the fall performanc
The spring cast features tenor José Cura in the title role in performances that were originally to have been conducted by Plácido Domingo, a famous Otello in his own right. However, Mr. Domingo has withdrawn from these performances. His replacement is French-Armenian conductor Alain Altinoglu. Krassimira Stoyanova is Desdemona, and Thomas Hampson takes on Iago.
Verdi surprised the world with Otello when he was 73 years old, following a 15-year silence after
Aida.
The opera is one of his most brilliant, complicated scores with a difficult tenor part that lends new meaning to the term "heroic." It is accurate to say that this is the most challenging tenor role in the Italian repertory, requiring powerful singing,
pathos
and acting of Shakespearean quality.
Otello
opens on Oct. 9.
Recording Recommendations:
Rome Opera Orchestra and Chorus
(RCA, 1955)
Otello:
Jon Vickers
Desdemona:
Leonie Rysanek
Iago:
Tito Gobbi
Jon Vickers was one of the definitive interpreters of Otello in the 20th century. Here, the Canadian tenor squares off against the brilliant Tito Gobbi as Iago. A young Leonie Rysanek is in her early prime here. This is an industry standard recording that remains a classic.
Vienna Philharmonic cond. Herbert von Karajan
(Decca, 1961)
Otello:
Mario del Monaco
Desdemona:
Renata Tebaldi
Iago:
Aldo Protti
The pluses here are Mario del Monaco, whose mighty Otello roars like a lion and goes out...well like a lion who's been tricked into murdering his wife. He is perfectly captured here in peak form, as is Renata Tebaldi's Desdemona. The opening thunderstorm (complete with bass organ pipes) will set your teeth rattling. The only drawback is the Iago: the adequate (but pallid) Aldo Protti. It's still awesome.
Return
to the
Superconductor 2012-2013 Metropolitan Opera Season Preview.
Contact the author: E-mail 
Superconductor
 editor 
Paul Pelkonen
.