The first new Met production of the 2015-16 season.
by Paul J. Pelkonen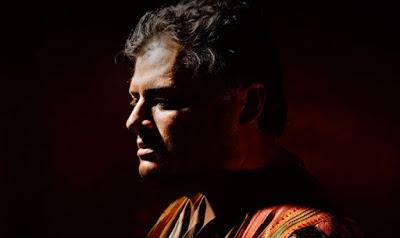 Aleksandrs Antonenko is the Moor of Venice in the Met's new Otello.
Photo © 2015 The Metropolitan Opera.
Director Bart Sher steps away from the
buffa
comedies of Rossini and Donizetti to try his hand at Verdi's version of Shakespeare's tragedy. Aleksandrs Antonenko takes on the daunting title role in this new production,  which opens the Metropolitan Opera's 2015-16 season.
Otello
opens with a series of thunderous, crashing chords and a hero who is on top of the world in his command of the Venetian military forces on the tiny island of Cyprus. Things go from good to bad to worse as his mind is slowly poisoned by his ensign Iago (baritone Željko Lučić) and he becomes convinced that his wife Desdemona (soprano Sonya Yoncheva) is having an extramarital affair. The opera ends in murder and suicide.
Verdi surprised the world with
Otello
when he was 73 years old, breaking the 15-year silence that followed the premiere of
Aida
. The opera is one of his most brilliant, complicated scores with a difficult tenor part that lends new meaning to the term "heroic."
Here, Yannick Nézet-Séguin takes on the challenge of conducting this sweeping score, which demands detailed accounting from the singers in addition to managing dynamic levels and Verdi's carefully written orchestration.
Otello
opens the Met season on Sept. 21.
Otello
will be simulcast live in Times Square. The Saturday matinee performance on Oct. 17 is part of this year's
Met in HD
series and will be broadcast to movie theaters around the world.
Recording Recommendations:
Rome Opera Orchestra and Chorus
(RCA, 1955)
Otello:
Jon Vickers
Desdemona:
Leonie Rysanek
Iago:
Tito Gobbi
The late Jon Vickers was one of the definitive interpreters of Otello in the 20th century. Here, the Canadian tenor squares off against the brilliant Tito Gobbi as Iago. A young Leonie Rysanek is in her early prime here. This is an industry standard recording that remains a classic.
Vienna Philharmonic cond. Herbert von Karajan
(Decca, 1961)
Otello:
Mario del Monaco
Desdemona:
Renata Tebaldi
Iago:
Aldo Protti
The pluses here are Mario del Monaco, whose mighty Otello roars like a lion and goes out...well like a lion who's been tricked into murdering his wife. He is perfectly captured here in peak form, as is Renata Tebaldi's Desdemona. The opening thunderstorm (complete with room-shaking organ pipes) will set your teeth rattling. The only drawback is the Iago: the adequate (but pallid) Aldo Protti. It's still awesome.
Tickets for
Otello
are available at 
MetOpera.Org
, by calling (212) 362-6000, or at the box office.