Anna Netrebko takes on Puccini in the title role of Manon Lescaut
by
Paul J. Pelkonen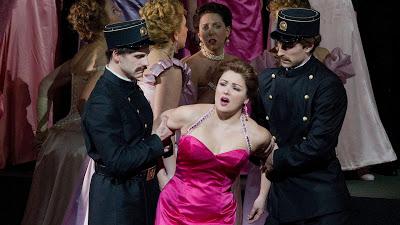 Do not pass "GO": Anna Netrebko in a scene from (Massenet's) Manon.
Photo by Ken Howard © 2012 The Metropolitan Opera.
Anna Netrebko, currently the most marketable soprano on the planet takes on a major Puccini role in her continued bid for world supremacy. She will play the title role in the Met's new-ish production of
Manon Lescaut
, just five years after she played the title role in Massenet's
Manon.
What is Manon Lescaut?
Composed in 1893,
Manon Lescaut
was Puccini's first genuine hit, and the second major adaptation of the Abbe Prevost's novel
L'histoire du chevalier des Grieux et de Manon Lescaut
for the operatic stage. Massenet's Manon, which also got a new production at the Met earlier this decade, came out just five years before. And yes, the "other"
Manon
also starred Ms. Netrebko in the title role.
What's Manon Lescaut about?
Although the music is gorgeous, the story (cobbled from the bones of the Abbe's novel by a team of five librettists) isn't particularly pretty. Manon Lescaut is the tale of a simple French girl who rides a steep, dizzying slide into decadence, destitution, disaster, deportation, disease and finally, death. Along for her downward spiral is the Chevalier des Grieux, whose love for Manon leads to the two of them being deported (to a "desert" outside of New Orleans!) in the tragic final scene.
Why should I see Manon Lescaut?
The title role is one of Puccini's great diva turns, presenting Manon not as a flighty soubrette but as a real and passionate woman. The main attraction here is Anna Netrebko.
So how come there are two operas named Manon?
When asked if it was an issue that he had chosen to set the same subject as Massenet, Puccini replied that Massenet "feels the subject as a Frenchman, with the powder and the minuets. I shall feel it as an Italian, with desperate passion." He added: "Why should there not be two operas about her? An inconstant girl can have more than one lover." The young composer injected his heroine with white-hot style and a gift for melody, creating a red-blooded romance that has thrilled audiences for a century.
Who else is in it?
Anna Netrebko sings all the performances of
Manon Lescaut
until November 21 when she yields the stage to Kristine Opolais for three performances. Marcelo Àlvarez sings all the performances as Des Grieux, a heavy role that fits his no-holds-barred approach to Puccini. Christopher Maltman is Manon's brother Lescaut, a gambler and procurer who spends most of the opera pimping his sister's charms.  Marco Armiliato conducts.
How's the production?
For reasons known only to director Sir Richard Eyre, the action of
Manon Lescaut
has been updated here to France in the 1940s, a time when that noble country suffered under the heel of Nazi occupation. I guess that gives the main characters reason to get on a boat and set sail for Louisiana.... 

When does the show open?
Manon Lescaut  returns to the Met on Nov. 14. 

Where do I get tickets?
Tickets  are available through
MetOpera.Org
or by calling the box office at (212) 362-6000. You can save service fees by going to the box office in person at the Met itself, located at 30 Lincoln Center Plaza. Hours: Monday to Saturday: 10am-8pm, Sunday: 12pm-6pm.
Which recording should I buy?
Manon Lescaut
is more frequently staged and recorded than Massenet's opera. Many of the great divas of the 20th century took Manon in front of the microphone, so there are recordings with Licia Albanese, Mirella Freni, Maria Callas and  Montserrat Caballe to consider. Des Grieux has been sung by Jussi Björling, Giuseppe DiStefano, Placído Domingo and Luciano Pavarotti, and is a popular if slightly off-beat Puccini role for a tenor with lyric sweetness and a voice that can handle the big moments in the score.
Orchestra and Chorus of the Academy of St. Cecilia cond. Francesco Molinari-Pradelli
(Decca 1954)
This classic Decca recording is hard to beat, pairing the great Renata Tebaldi with the sheer force of nature that was tenor Mario del Monaco in his prime. A great place to start and available at a great price.
Philharmonia Orchestra cond. Giuseppe Sinopoli
(DG 1984)
Mirella Freni sings the title role opposite Plácido Domingo under the sometimes quirky but always lyrical conducting of Giuseppe Sinopoli, a surgeon turned maestro who had a special touch with late Romantic opera.