Anna Netrebko goes for broke as Massenet's fallen heroine.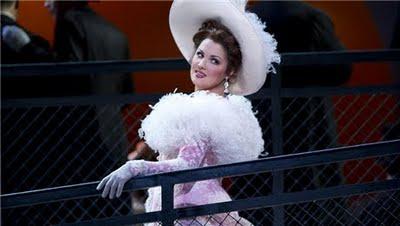 Anna Netrebko as Manon. Photo by Bill Cooper © 2010 Royal Opera House of Covent Garden
Manon is the classic story of a good girl who gets in the wrong carriage on the way to the convent, and embarks on a wild romance with the callow nobleman, the Chevalier des Grieux. Our heroine goes from a young idealist with ambitions of the stage to a woman of ill-fame. Ultimately she is sentenced to deportation and dies in Des Grieux' arms on the road to Le Havre.
Jules Massenet was not one of the most critically acclaimed of French composers. But he was a gifted melodist whose skill at writing ear candy in the distinct 19th century French style made him the most successful composer in France following in the footsteps of Charles Gounod. It didn't hurt that his other operas include the wildly popular Werther and Thaïs, which have also been seen recently on the Met stage. Manon is one of his most enduring scores.
This production by Laurent Pelly is the Met's newest import from Covent Garden. It's also the second new production at the Met this year to star Anna Netrebko.
The opera pairs her with Piotr Beczala as the Chevalier des Grieux. Broadway singer turned opera star Paolo Szot is Lescaut, Manon's no-good brother. Fabio Luisi is slotted to conduct.
Recording Recommendation:
Note: This may be a statement by yours truly in his secret identity of Captain Obvious, but Massenet's Manon is a different opera than Puccini's Manon Lescaut, Though they are based on the same source material.
New Philharmonia Orchestra cond. Julius Rudel
Manon Lescaut: Beverly Sills
Chevalier des Grieux: Nicolai Gedda
Lescaut: Gabriel Bacquier
This classic recording from 1970 was the first recording of Manon in the catalogue, and a key part of the resurgence of interest in French opera, especially this one. Although Manon had been eclipsed by the later Puccini opera, this set was key at restoring interest in the music of Massenet. Hear why Manon was one of Beverly Sills' signature roles, and why she sounds so good at being so bad.