A revival of Anthony Minghella's evocative staging.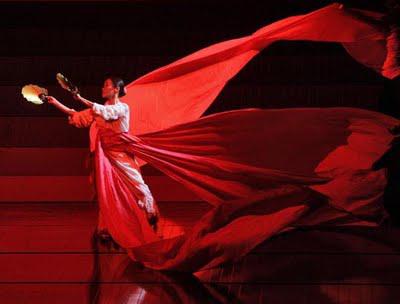 A dancer from the opening scene of Madama Butterfly.
Photo by Ken Howard © 2007 The Metropolitan Opera 
This
Butterfly
marked the start of the Peter Gelb era at the Metropolitan Opera in 2006. This spare production, directed by the late film-maker Anthony Minghella (
The English Patient, The Talented Mr. Ripley
) reduces the tragedy down to its most human elements, the crisis faced by the geisha Cio-Cio San, married, impregnated and abandoned by the callow American naval officer Pinkerton.
When Pinkerton returns to Nagasaki to see his wife and child, (with his "real American bride" in tow) Butterfly commits
seppuku
(ritual suicide) in the tradition of her Japanese ancestors.
Mr. Minghella's production makes innovative use of dancers and shadow puppets to bring out the authentic Japanese atmosphere of the opera. But it is Puccini's glorious, soaring music that will rend the heart, particularly the famous soprano showpiece "Un bel di."
Placìdo Domingo conducts some of these performances, which feature soprano Liping Zhang in the title role. The February run stars Patricia Racette, whose performance was filmed for the
Met Live in HD broadcast, and released on DVD this year.
Recording Recommendations:
Coro e Orchestra de Teatro dell'Opera di Roma
cond. Sir John Barbirolli (EMI, 1967)
Cio-Cio San:
Renata Scotto
Lt. B. F. Pinkerton
: Carlo Bergonzi
Sharpless
: Rolando Panerai
Suzuki:
Anna di Stasio
Goro:
Piero da Palma
There are a number of fine
Butterfly
recordings, but this EMI set is ahead of the pack, thanks to the expert conducting of Sir John Barbiriolli. The British maestro leads an authentic, Italian chorus and orchestra, with excellent results--this is passionate music-making. The young Renata Scotto is at her best as Puccini's heroine. Carlo Bergonzi is a seductive, impressive presence as Pinkerton, and almost makes you feel sympathy toward his feckless character.
Return to the Metropolitan Opera Season Preview!