Thomas Hampson gets his hands dirty.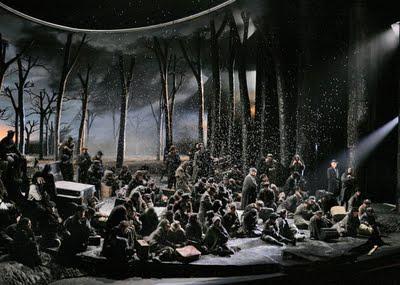 "Patria oppressa" from Act IV of Macbeth. 
Photo by Ken Howard © 2007 The Metropolitan Opera.
This is the first revival of Adrian Noble's successful 2007 production of
Macbeth
. Thomas Hampson goes down the road to ruin in the title role. The American baritone is a fine, sensitive singer who should bring tragic weight to the part. Nadja Mitchell has the unenviable task of playing Lady Macbeth, one of the most challenging female leads in opera.
Yes, there are considerable differences between the play and the opera. The Witches are represented by a dancing chorus of eighteen witches broken into three vocal groups. King Duncan gets bumped off to a merry march. The oppressed people of Scotland gather and sing a very Verdian chorus ("Patria oppressa") in the same mold as the more famous "Va pensiero" from the composer's earlier
Nabucco
.
The operatic version of
Macbeth
by Giuseppe Verdi does not have the same frightening history of bad luck that has made the play's title a taboo word among theater-folk. (In fact, the traditional "bad luck" operas are
Tosca
and
La Forza del Destino.
) But for two decades, this opera was taboo at the Met following the
suicide of vocal coach Banthco Bantchevsky
, in the auditorium during a live broadcast of the opera in 1988.
Recording Recommendation:
Chorus and Orchestra of La Scala
cond. Claudio Abbado (DG, 1976)
Macbeth:
Piero Cappucilli
Lady Macbeth:
Shirley Verrett
Banquo:
Nicola Ghiaurov
Macduff:
Plácido Domingo
This is one of the best opera recordings in the series made by Claudio Abbado with the La Scala forces in the 1970s. Shirley Verrett is a hellacious Lady Macbeth, more than a match for her husband played by the great and underrated Piero Cappuccilli. The mature Domingo is almost luxury casting as Macduff. Mr. Abbado remains a skilled, dedicated Verdian and the engineering is top-notch.