The Met creates a new setting for this rare gem by Bizet.
by Paul J. Pelkonen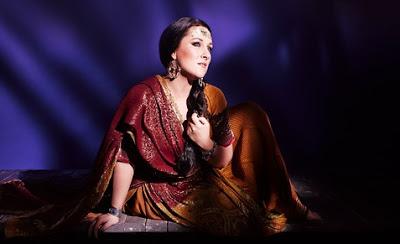 Diana Damrau is Leïla in the new production of The Pearl Fishers.
Photo by Kristian Schuller © 2015 The Metropolitan Opera.
George Bizet is one of the most important French composers of the 19th century and yet he is chiefly remembered for
Carmen
, the toe-tapping tragedy that has held the stage for over a century. Here, the Metropolitan Opera delves into the Bizet back catalog to present
Les Pêcheurs de Perles
("The Pearl Fishers") a tragic love triangle set in the mysterious Orient. This new production by Penny Woolcock premieres on New Year's Eve.
Bizet was just 25 in 1863, when he wrote
The Pearl Fishers
an ambitious young composer who ran smack into the Parisian preference for the operas of Rossini, Meyerbeer and even Gounod. (
Carmen
, the opera that would become his legacy, followed ten years later.)
Fishers
is the story of Leïla, a Sri Lankan priestess, caught between the passions of two guys who dive for pearls for a living.
Amazon.com Widgets
Here, Diana Damrau sings the central soprano role. Her suitors are Nadir (tenor Matthew Polenzani) and Zurga (baritone Mariusz Kwiecien.) The boys (who last starred together in the Met's 2013-season opening production of Donizetti's
L'Elisir d'Amore
) get to sing "Au fond du temple saint", one of the most famous duets in the repertory and reason alone for you to go see this unfamiliar opera.
Although Bizet is a respected composer, it's been 100 years since the Met presented
the Pearl Fishers
in a staged production. (The 1916 performances featured a young tenor hopeful named Enrico Caruso.) However, the duet from this opera is a popular concert item and is often done at galas and recitals by pairs of tenors and baritones eagerly declaring their friendship. This new production taps on the mystery and exoticism of the score. The opera will be conducted by Gianandrea Noseda.
Les Pêcheurs de Perles
premieres on Dec. 31st 2015. The opera will be presented as part of the Met's
Live in HD
series on Jan. 16, 2016.
Recording Recommendations: 
Les Pêcheurs de Perles
is not as frequently performed as
Carmen
and has a correspondingly small discography. The old EMI label, which specialized in French opera recordings over its long history, has released a number of recordings over the years with sopranos like Ileana Cotrubas and Barbara Hendricks in the key role of Leïla.
Tickets for 
Les Pêcheurs de Perles
 are available at 
MetOpera.Org
, by calling (212) 362-6000, or at the box office starting August 11.