The Met revives Jonathan Miller's production.
by
Paul J. Pelkonen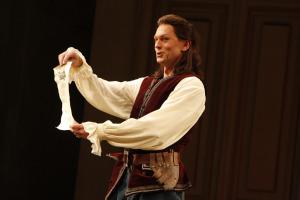 Ildar Abdrazakov as Figaro in Le Nozze di Figaro.
Photo by Karin Cooper © 2010 Washington National Opera/The Kennedy Center
Bass Ildar Abdrazakov sings the title role in Mozart's evergreen comedy. This is the first of two Mozart roles for Mr. Abdrazakov this fall--he's also scheduled to sing
Don Giovanni.
The Marriage of Figaro
was the first of three collaborations between Mozart and Lorenzo da Ponte, comedies that took Europe by storm and predicted the tumult of the French Revolution. Beyond the politics is the brilliant score, packed with hummable tunes and rich, human characters.
These performances are conducted by David Robertson, a craftsman who led last year's successful (if brief) revival of
Billy Budd.
Gerald Finley is the Count Almaviva. Soprano Maija Kovalevska is the Countess, and Mojca Erdmann takes on the role of Susanna, Figaro's intended. Christine Schäfer dons the trousers as Cherubino, the lovestruck page who gets some of the best arias.
Le Nozze di Figaro
opens Oct. 26.
Recording Recommendations:
Like its titular barber, 
Figaro
gets around on disc. Here are three excellent recordings of Mozart's beloved comedy.
Vienna Philharmonic
cond. Erich Leinsdorf. (Decca 1955)
Figaro:  
Cesare Siepi
Susanna:
Hilde Gueden
Count Almaviva:
Alfred Poell
Countess Rosina:
Lisa della Casa
Cherubino:
Suzanne Danco
The heavyweight champion. Finally given a proper CD mastering in 1999, this effervescent performance by the senior Kleiber with the Vienna Philharmonic is anchored by a phenomenal cast, which includes Hilde Gueden, Cesare Siepi and Fernando Corena. And did we mention the Goddess of Vienna, Lisa della Casa, radiant yet mournful as Mozart's Countess.
Chor und Orchester der Deutsches Oper Berlin
cond. Karl Böhm (DG, 1968)
Figaro:
Hermann Prey
Susanna: 
Edith Mathis
Count Almaviva:
Dietrich Fischer-Dieskau
Countess Rosina:
Gundula Janowitz
Cherubino:
Tatiana Troyanos With Hermann Prey as Figaro and Dietrich Fischer-Dieskau as Almaviva, this German-flavored recording has a pair of very strong leads. Rich comic timing, crisp, nimble performances and a great Mozartean at the helm. A loveable
Figaro
and the first one I reach for. And with a cast that includes Gundula Janowitz, Edith Mathis and Tatiana Troyanos, can you blame me?
English Baroque Soloists cond. John Eliot Gardiner. (DG Archiv 1994)
Figaro:
Bryn Terfel
Susanna: 
Alison Hagley
Count Almaviva:
Rod Gilfry
Countess Rosina:
Hillevi Martenpelto
Cherubino:
Pamela Helen Stephen
Quicksilver conducting dominates this live recording made at the Theatre du Chatelet and filmed for release on VHS and DVD. (In fact, this was one of the first opera DVDs released by DG back in 2000!) This set marks the (recorded) debut of Bryn Terfel as Figaro, alongside a strong cast of future stars that includes Rodney Gilfrey and Alison Hagley. Pamela Helen Stephen is an excellent Cherubino. Hillevi Martinpelto gives an emotional, carefully weighted portrait of the Countess, the perfect, irresistible compliment to the macho bluster of the two male leads.
Return
to the
Superconductor 2012-2013 Metropolitan Opera Season Preview.
Contact the author: E-mail 
Superconductor
 editor 
Paul Pelkonen
.