Mozart's comedy of masters, servants and class warfare returns.
by
Paul J. Pelkonen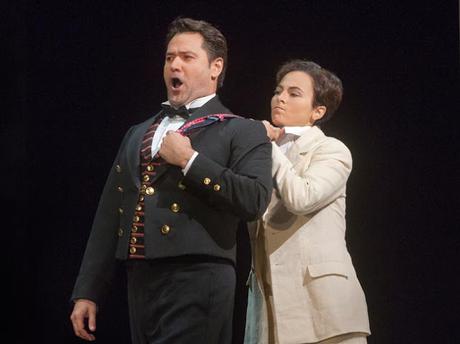 Ildar Abdrazakov and Isabel Leonard in a moment from Le Nozze di Figaro.
Photo courtesy the Metropolitan Opera.
The Met brings back its sparkling
Figaro
under the baton of English period performance maven Harry Bicket.
What is Le Nozze di Figaro?
Look, this is just a good opera. In fact it's one of the best. Mozart's Figaro is a four-act, four-hour feast of the composer's best and most memorable tunes, and a story that features one memorable day in a very peculiar household. This run offers a new cast in the Met's production by Sir Richard Eyre, which opened the 2014 season.
What's Le Nozze di Figaro about?
The plot of Figaro is complex. The title character, valet (and former barber) to the Count Almaviva wants to marry the housemaid Susanna. However, the Count (who has recently abolished the droit de seignur that allowed him first night privileges with any new bride under his rule) wants to have his way with Susanna before the wedding anyway.
Adding to the merriment: a May-December romance between the Countess and Cherubino (the excessively virile young page who continually finds himself in the most awkward situations) and a plot by Dr. Bartolo and Marcellina to take revenge on Figaro for his actions in the earlier Barber of Seville.
What's the music like?
Figaro is a long opera but it is packed end to end with Mozart's most inspired writing for the voice. From the title character's challenging "Se vuol bailare" and "Non più andrai" to the twenty minute add-a-voice ensemble that ends the second act, this score never fails to please the ear. The finale of Act IV ("Contessa perdono") is the loveliest part, a moving plea for reconciliation between the major characters as the comic doings finally come to a serious consequence.
Who's in it?
The Met offers two strong casts in this revival. Rachel Willis-Sørensen and Ailyn Perez will both sing the Countess. Christiane Karg and Nadine Sierra are the Susannas. The first cast pits Luca Pisaroni as the Count against Adam Plachetka's Figaro. The second, more starry cast features Mariusz Kwiecien and Ildar Abdrazakov as master and servant.
How's the production?
This ambitious production by Sir Richard Eyre sets the action of Le Nozze di Figaro on the company's famous turntable stage, moving from room to room of the Count Almaviva's house in a way that recalled the classic '80s staging of Il Barbiere di Siviglia. The setting is updated (for some reason) to the Spanish Civil War.
Why should I see it?
Did you miss the part about this being one of the best operas ever written? Go back and read it again.
When does it open?
The first cast takes the stage Dec. 6.
Where can I get tickets?
Tickets  are available through MetOpera.Org or by calling the box office at (212) 362-6000. You can save service fees by going to the box office in person at the Met itself, located at 30 Lincoln Center Plaza. Hours: Monday to Saturday: 10am-8pm, Sunday: 12pm-6pm.
Is there a Live in HD broadcast planned?
No.
Recording Recommendations:
Like its titular barber, Figaro gets around on disc. Here are three excellent recordings of Mozart's beloved comedy.
Vienna Philharmonic cond. Erich Leinsdorf 
(Decca 1955)
Figaro:  Cesare Siepi
Susanna: Hilde Gueden
Count Almaviva: Alfred Poell
Countess Rosina: Lisa della Casa
Cherubino: Suzanne Danco
The heavyweight champion. Finally given a proper CD mastering in 1999, this effervescent performance by the senior Kleiber with the Vienna Philharmonic is anchored by a phenomenal cast, which includes Hilde Gueden, Cesare Siepi and Fernando Corena. And did we mention the Goddess of Vienna, Lisa della Casa, radiant yet mournful as Mozart's Countess.
Chor und Orchester der Deutsches Oper Berlin cond. Karl Böhm (
DG, 1968)
Figaro: Hermann Prey
Susanna: Edith Mathis
Count Almaviva: Dietrich Fischer-Dieskau Countess Rosina: Gundula Janowitz
Cherubino: Tatiana Troyanos
With Hermann Prey as Figaro and Dietrich Fischer-Dieskau as Almaviva, this German-flavored recording has a pair of very strong leads. Rich comic timing, crisp, nimble performances and a great Mozartean at the helm. A loveable Figaro and the first one I reach for. And with a cast that includes Gundula Janowitz, Edith Mathis and Tatiana Troyanos, can you blame me?
English Baroque Soloists cond. John Eliot Gardiner
(DG Archiv 1994)
Figaro: Bryn Terfel
Susanna: Alison Hagley
Count Almaviva: Rod Gilfry
Countess Rosina: Hillevi Martenpelto
Cherubino: Pamela Helen Stephen
Quicksilver conducting dominates this live recording made at the Theatre du Chatelet and filmed for release on VHS and DVD. (In fact, this was one of the first opera DVDs released by DG back in 2000!) This set marks the (recorded) debut of Bryn Terfel as Figaro, alongside a strong cast of future stars that includes Rodney Gilfrey and Alison Hagley. Pamela Helen Stephen is an excellent Cherubino. Hillevi Martinpelto gives an emotional, carefully weighted portrait of the Countess, the perfect, irresistible compliment to the macho bluster of the two male leads.