Diana Damrau takes her turn in the Little Red Dress.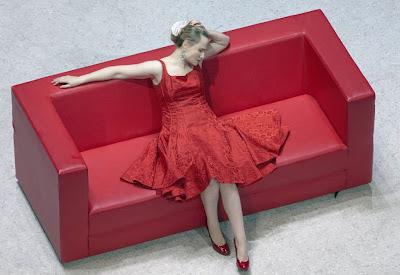 Couch trip: Marina Poplavskaya sang the first Violettas in this production in 2010.
Photo by Ken Howard © 2010 The Metropolitan Opera.
Willy Decker's white-walled production of
La traviata
returns. This production divides opinions: it's either a heartbreaking work of staggering genius or an example of "Euro-trash"
regietheatre
. Set in one white room dominated by an IKEA couch and an enormous clock, this production puts the focus squarely on Violetta Valery and the limited time she has left.
This time there's a new diva in the red dress, but one familiar to Met audiences: German songbird Diana Damrau. The most controversial casting choice:Plácido Domingo, who continues his exploration of Verdi's baritone roles. Noted for his interpretation of the love-struck Alfredo, he'll be switching over to the role of Giorgio Germont. Saimir Pirgu completes the triangle as Alfredo.
These are also the first 
Traviata
 performances at the Met to be conducted by French-Canadian firebrand Yannick Nézet-Séguin. The new music director of the Philadelphia Orchestra has already led Verdi's 
Don Carlo
 and Gounod's 
Faust
. His expert baton-work should keep the death-clock ticking smoothly through the opera's four acts.
La traviata
 opens March 14, 2013.
Recording Recommendations
Verdi's most heart-rending opera has been lucky on disc. Here's three good recordings.
Bavarian State Opera Orchestra
cond. Carlos Kleiber (DG, 1977)
Violetta:
Ileana Cotrubas
Alfredo:
Plácido Domingo
Germont:
Sherrill Milnes
Carlos Kleiber was an extraordinary conducting talent who made very few recordings. This was one of his best, a studio-made, note-complete
Traviata
with a sensitive heroine in Ileana Cotrubas. The redoubtable team of Sherrill Milnes and Placído Domingo recorded a lot of operas together in the 1970s, but they manage to convince the listener as father and son.
Coro e Orchestra de La Scala
cond. Riccardo Muti (Sony, 1992)
Violetta:
Tiziana Fabbricini
Alfredo:
Roberto Alagna
Germont:
Paolo Coni
Expert Verdi conducting and a compelling performance by Roberto Alagna as Alfredo. Tiziana Fabbricini is a very good, involving Violetta who is helped by the live, theatrical recording made in Italy's most famous opera house. Reissued last year.
Vienna Philharmonic
cond. Carlo Rizzi (DG, 2005)
Violetta:
Anna Netrebko
Alfredo:
Rolando Villazón
Germont:
Thomas Hampson
I will also put a word in for this entertaining live recording from the Salzburg Festival. Anna Netrebko, captured in great form as Verdi's bird in a gilded cage. Rolando Villazon before he lost his voice. And like the Muti set, this has the immediacy of a live recording.
Return
to the
Superconductor 2012-2013 Metropolitan Opera Season Preview.
Contact the author: E-mail 
Superconductor
 editor 
Paul Pelkonen
.