The Met presents the return of Puccini's bittersweet rarity.
by 
[email protected]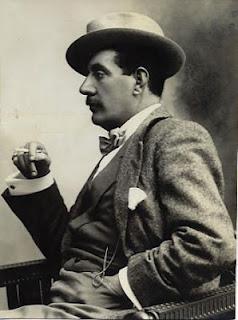 He's got elegance: Giacomo Puccini
La Rondine
("The Swallow") is not a complicated story, but it has the misfortune of being neither tragedy (nobody dies) nor comedy (it has a sad ending). The opera falls between two stools, and as a result has never earned a place at the table.
Rare bird though it is, this is still a mature product of Giacomo Puccini's later years. (It premiered in 1917, and follows
La Fanciilla del West
in the composer's catalog.) Puccini's heady music is redolent of the gilded age, depicting the world of a "kept woman" in early 20th century Paris with gorgeous dance rhythms. There are parts for
two
leading sopranos--and two leading tenors.
This stylish production was originally conceived in 2008 for opera's so-called "love couple," Angela Gheorghiu and Roberta Alagna. With Ms. Gheorghiu currently 
persona non grata
 at Peter Gelb's Met, this revival offers Kristine Opilais her chance for a house debut. Giuseppe Filianoti is Ruggero, the man she loves and ultimately, rejects.
La Rondine
 opens Jan. 11, 2013.
Recording Recommendation:
London Symphony Orchestra cond. Antonio Pappano (EMI, 1997)
Magda: Angela Gheorghiu
Ruggero: Roberto Alagna
Angela Gheorghiu and Roberto Alagna did much for the status of
La Rondine
in the last two decades. This EMI recording (conducted with grace by Antonio Pappano) is the best place to start appreciating ths lost Puccini gem.
Return
to the
Superconductor 2012-2013 Metropolitan Opera Season Preview.
Contact the author: E-mail 
Superconductor
 editor 
Paul Pelkonen
.