Joyce DiDonato sings a Rossini rarity in this new production.
by
Paul J. Pelkonen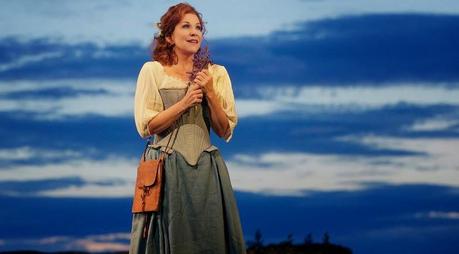 Joyce DiDonato in La Donna Del Lago at Santa Fe.
Image by Ken Howard © 2014 Santa Fe Opera Festival

With the exception of

Il Barbiere di Siviglia

, Rossini's vast operatic catalog was ignored for many years following the composer's retirement and death. Here, the Met continues its Rossini revival with the company's first staging (ever) of

La Donna del Lago

("The Lady of the Lake"). Paul Curran's new production bowed last year at Santa Fe.

Rossini was in his full flower of maturity when he wrote

La Donna del Lago

. Indeed, among his late Italian operas, this one holds particular strengths in its innovative, Mozartean use of orchestral textures and its story adapted from a tale by Sir Walter Scott. Scott's writing has been used for a number of tragic operas. (

Lucia di Lammermoor

is the most famous.) 

La Donna del Lago

ends on an "up" note for a

bel canto

opera, with reconciliation triumphant over tragedy.

This production stars opera superstar Joyce DiDonato, a singer whose effervescent turn in the title role of

La Cenerentola

was one of the highlights of the spring season. Last season, she brought down the house at the annual Richard Tucker Gala with the climactic

Rondo

from this opera, a teaser for these performances.

Opposite her is her co-star from

Cenerentola

: Juan Diego Flórez in the key role of Uberto, the disguised King James V of Scotland. The high-flying cast also includes tenor John Osborn. Michele Mariotti conducts.

La Donna del Lago

opens Feb. 16, 2015. A

Live in HD

broadcast of the opera is scheduled for Feb. 28.

Recording Recommendation: SWR Radio Orchestra Kaiserslautern cond. Alberto Zedda

A cast of little-known singers (Sonia Ganassi, Maxim Mironov, Marianna Pizzolato, Ferdinand von Bothmer) came together for this cheap-o Naxos recording which captures the magic and romance of Rossini's score, under the energetic baton of Alberto Zedda.

Tickets for

La Donna del Lago

 are available at 

MetOperaFamily.Org, by calling (212) 362-6000, or at the box office.