The Met goes over the top once more with the Zeffirelli Bohéme.
by Paul J. Pelkonen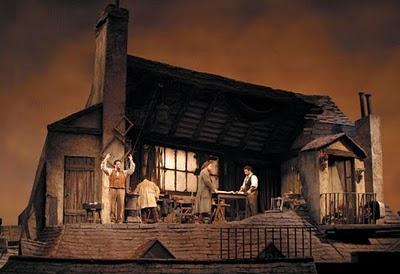 Upper West Side real estate. Sleeps four. Act I of La bohème.
Photo by Ken Howard © 2010 The Metropolitan Opera.
The Met's most popular production appears with the inevitability of the seasons. This year, the Parisian attic is filled with several fine casts of young singers against the elaborate, hyper-realist sets by Franco Zeffirelli.
This year's casts alternate Maija Kovalevska, Anita Hartig and Barbara Frittoli as Mimí, the beautiful, frail seamstress who falls in love with the poet Rodolfo (either Joseph Calleja or Vittorio Grigolo) on a wintry
Christmas
Eve in Paris.
This production does everything on a huge scale, from the little pushcarts that pack the lip of the stage in Act II to the huge milling chorus of shoppers, children and street performers that pack the Latin Quarter behind it.  The Bohemians' garret is set among realistic-looking rooftops, with an actual balcony that would be the envy of any realtor. Act II features an entire quarter of Paris with a realistic depiction of the Café Momus. And the Act III snowstorm is so over the top that Lincoln Center keeps three garbage trucks with snowplows standing by. (We're kidding about that last part, but it remains impressive!)
La Bohème
opens Jan. 14. A second run starts March 19 with a different cast. A
Live in HD
telecast is scheduled for April 5.
Recording Recommendations:
RCA Victor Chorus and Orchestra
cond. Sir Thomas Beecham (EMI, 1953)
Rodolfo:
Jussi Björling
Mimi:
Victoria de los Angeles
Marcello:
Robert Merrill
Made at the Manhattan Center Studios on W. 34th St. in New York, this is the classic mono recording of Puccini's opera. Jussi Björling and Victoria de los Angeles are an ardent pair of lovers. Robert Merrill is a marvelous, characterful Marcello. A classic.
Orchestra e Coro de St. Cecillia di Roma
cond. Tullio Serafin (Decca, 1959)
Rodolfo:
Carlo Bergonzi
Mimi:
Renata Tebaldi
Marcello:
Ettore Bastianini
Veteran opera conductor Tullio Serafin leads this fine early stereo recording. Carlo Bergonzi and Renata Tebaldi lead a solid cast as the young lovers. The great Ettore Bastianini is Marcello. The cast is filled out with great singers from this era, including Fernando Corena, Cesare Siepi and Piero da Palma.
Berlin Philharmonic
cond. Herbert von Karajan (Decca, 1973)
Rodolfo:
Luciano Pavarotti
Mimi:
Mirella Freni
Marcello:
Rolando Panerai
For Pavarotti lovers, this is one of his great recordings, pairing the Italian tenor with his frequent collaborators, soprano Mirella Freni and conductor Herbert von Karajan. This performance is a little slower, with the German orchestra playing with a slightly heavy touch, but it remains competitive.
Tickets for
La bohéme
are available at 
MetOperaFamily.Org
, by calling (212) 362-6000, or at
the box office
starting Aug. 11