A twin bill of love and terror.
by
Paul J. Pelkonen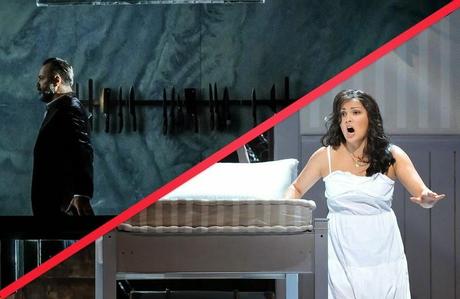 Photo of Bluebeard's Castle (left) by Krzysztof Bieliński © Teatri Wielki.
Photo of Anna Netrebko in Iolanta by Andrea Kremper  © Baden-Baden Festival.
Images courtesy The Metropolitan Opera press department. Photo alteration by the author.
The pervading
motif
of young women in the throes of self-discovery and danger ties together this double-bill, one of the most eagerly anticipated shows of the coming Met season.
This is an unusual bilingual double bill of two heavyweight one-act operas from two radically different composers: Tchaikovsky and Bartók. The ultimate Russian romantic, Tchaikovsky set
Iolanta
as his last opera: the tale of a blind princess (Anna Netrebko) whose world is changed with the discovery of a handsome suitor (Piotr Beczala) a new world of sight and color and finally, true love.
Béla Bartók only wrote one opera. But thankfully that opera was 
Bluebeard's Castle
, which chronicles the disastrous wedding night of newlyweds Bluebeard (Mikhail Petrenko) and Judith. With a slow and careful building of dread, the opera chronicles Judith's explorations of her choice in marrying her new husband, and the disturbing and bloody secrets of his mysterious and dreadful home. Bartók's mastery of musical color and a large orchestra make this domestic horror story a feast for the senses.
This new Metropolitan Opera double bill is imported from two European festivals.
Iolanta
comes from Baden-Baden, while
Bluebeard
originated at the Teatr Wielki, home of the Polish National Opera. It marks the Met''s first-ever production of Tchaikovsky's
Iolanta
and the first staging of
Bluebeard's Castle
in the 21st century. Marusz Trelinski's twin bill is inspired by
film noir
of the 1940's. Valery Gergiev conducts.
Iolanta
and
Duke Bluebeard's Castle
open on Jan. 26, 2015. Oddly enough, the
Live in HD
broadcast is scheduled for Feb. 14, 2015:
Valentine's Day
.
Recording Recommendations:
Iolanta:
Kirov Opera Orchestra and Chorus cond. Valery Gergiev
(London/Philips)
Gegam Grigorian, Dmitry Hvorostovsky and Galina Gorchakova were superstars in St. Petersburg and this two-disc account of the 96-minute opera captures all three artists in fine voice. Mr. Gergiev leads a sweeping and emotive account of this lovely and underappreciated score.
Bluebeard's Castle:
Chicago Symphony Orchestra cond. Pierre Boulez (Deutsche Grammophon)
Bluebeard:
László Polgár
Judith:
Jessye Norman
This searing recording features Mr. Boulez' detail-rich account of the score and the rich tonal color of the Chicago Symphony Orchestra at their very best. The bright, brass-driven fanfare at the opening of the central door will probably scare your pets and annoy your neighbors.
Tickets for 
Iolanta
  and
Bluebeard's Castle
are available at MetOperaFamily.Org, by calling (212) 362-6000, or at
the box office
.