Rossini's comic brilliance lights up the Met stage...again.
by
Paul J. Pelkonen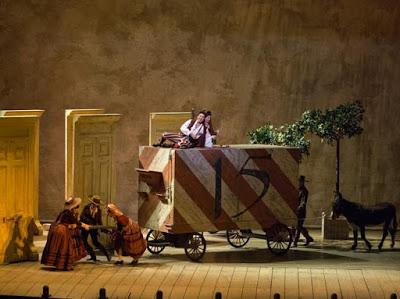 Figaro (on cart) makes his grand entrance in Act I of Il Barbiere di Siviglia.
Photo © 2016 The Metropolitan Opera.
The Met brings joy and warmth into the middle of winter with this January 2017 revival of
Il Barbiere di Siviglia
. This version of the opera is sung in Italian and presented without cuts.
What is Il Barbiere di Siviglia?
This is the most popular comic opera in the repertory, a story of young love and whiz-bang energy.
Barber
celebrated 200 years in the repertory in 2016 and its familiar melodies, hard-charging overture and comic hi-jinks make it the perfect "starter" opera.
What's the story?
Count Almaviva, is an impetuous nobleman with a light tenor who has fallen madly and operatically in love with the beautiful Rosina, the ward of a crusty old doctor. In his quest to win the girl, Count Almaviva is aided by the ubiquitous Figaro, a local barber who has a song, a scheme or a shaving-brush to suit every occasion.
Who's in it?
This latest revival has a hot cast, with breakout
bel canto
star Pretty Yende as Rosina, Javier Camarena as the love-struck Coint Almaviva and Peter Mattei, an imposing bass-baritone as Figaro. Maurizio Benini conducts.
How's the production?
First seen in 2006, this was director Bartlett Sher's first effort for the Metropolitan Opera. It is a concoction of sliding doors, flying anvils and smashing pumpkins (not the band) that celebrates the bubbling spirit of Rossini's music with laugh-out-loud visuals. The director freely embraces cartoon physics, creating a surreal Seville that never fails to entertain.
When does Il Barbiere di Siviglia open?
Figaro's shop (No. 15, on the left side) is open for business on Jan. 9, 2017.
Where do I get tickets?
Tickets  are available through MetOpera.Org or by calling the box office at (212) 362-6000. You can save service fees by going to the box office in person at the Met itself, located at 30 Lincoln Center Plaza. Hours: Monday to Saturday: 10am-8pm, Sunday: 12pm-6pm.
Which recordings do you recommend?Orchestra and Chorus of La Scala cond. Alcero Galliera
(EMI/WBC 1958)
A brisk, professional affair, graced with the presence of Maria Callas as the ingenious Rosina.
La Divina
accents the viperish nature and worldly wisdom of Dr. Bartolo's young ward. Her "Una voce poco fa" is lovely, complete with a hair-raising high note in the final bars. Figaro is her longtime onstage sparring partner Tito Gobbi.
London Symphony Orchestra cond. Claudio Abbado
(DG, 1971)
The first Barber to be recorded using the critical edition of Rossini's score is 40 years old. It remains the best in the catalog. Hermann Prey sings with great warmth and humor as Figaro, commenting on the action even as he drives the plot forward. This is Luigi Alva's second recording as Almaviva. Teresa Berganza is a strong mezzo Rosina, characterful and pert.