Power, mystery and a gigantic sea monster in Mozart's drama.
by
Paul J. Pelkonen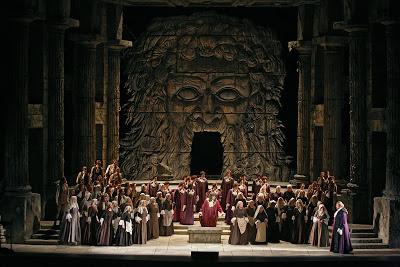 The supernatural climax of Mozart's Idomeneo.
Photo by Marty Sohl © 2006 The Metropolitan Opera.
Matthew Polenzani takes on the title role in Mozart's challening drama, an
opera seria
thar chronicles the trials and tribulations of a Cretan king who returns from the Trojan War only to find out that the gods demand a sacrifice: his only son.
What is Idomeneo?
Mozart's thirteenth opera and the earliest of his stage creations to retain a place in the standard repertory of the world's opera houses. Sprawling over three acts, this is a work of exceptional musical ambition and challenge to its performers, as it was created for the formidable orchestra and cast that were at the Elector's disposal.
What's Idomeneo about?
Mozart went to Greek myth for his libretto, opting for the story if a Cretan king (the titular Idomeneo) forced into the position of having to sacrifice his own son in order to fulfill a sacred vow. A sea monster appears (offstage) and starts eating innocent bystanders. A subplot involves the Greek princess Elettra and her frustrated love for Idamante.
What's the music like?
This is Mozart at his most ambitious. Heroic arias for these larger-than-life characters (particularly Elettra) show Mozart improving on the so-called "classical" style, creating a new rule book for composers. There are important choral parts throughout the opera, and the orchestra indulges in descriptive passages, marches and ballets that move the drama forward with the force of a hurrying wind.
Who's in it?
Matthew Polenzani challenges listeners' memories of Domingo and Pavarotti as he takes on the heavy title role. Alice Coote is
in travesti
as his son Idamante. As Elettra and Ilia, Elza van den Heever and Nadine Sierra find themselves in competition for the prince's hand. James Levine conducts.
How's the production?
This is a durable staging of the Mozart opera that looks faded, worn and appropriate for a story of ancient Crete. Jean-Pierre Ponelle's staging is heavy on the drama and light on the special effects, although the appearance of the Voice of Neptune at the opera's climax remains a theatrical coup.
Why should I see it?
See it if you love Mozart, have the patience for a long opera, or just want to hear four hours of this composer at his most inspired. Fans of great singing and Mr. Levine should also consider attending, because this production gets a revival maybe once a decade.
When does it open?
Idomeneo
returns March 6, 2017.
Where can I get tickets?
Tickets  are available through MetOpera.Org or by calling the box office at (212) 362-6000. You can save service fees by going to the box office in person at the Met itself, located at 30 Lincoln Center Plaza. Hours: Monday to Saturday: 10am-8pm, Sunday: 12pm-6pm.
Which recording should I get?
There are two solid recommendations.
English Baroque Soloists cond. John Eliot Gardiner (DG Archiv, 1990)
This was conductor John Eliot Gardiner's first deep dive into making a recording of a complete Mozart opera using 18th century instruments. The sound is crisp and refreshing throughout and the cast is excellent.
Bavarian Radio Symphony and Chorus cond. Colin Davis (Philips-London 1991)
Sir Colin Davis recorded Idomeneo twice. This is the preferred version, made especially for Philips' super-deluxe Complete Mozart Edition that was released to celebrate the 200th anniversary of Mozart's death, and was instrumental in elevating the profile of this opera.