A new generation takes on the bel canto classic.
by
Paul J. Pelkonen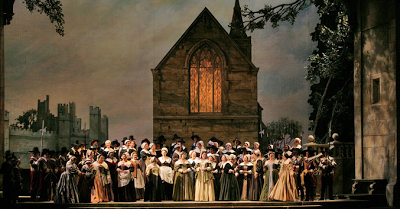 We gather together: the Puritans take the stage for a big chorus in I Puritani.
Photo by Ken Howard © 2013 The Metropolitan Opera.
In this, his last opera, Bellini (who died at the age of 33, just nine months after the premiere) wrote some of his most beautiful tunes, with sky-scraping roles for soprano and
primo tenore.
Here, the lovers are played by soprano Olga Peretyatko (in her Met debut) and tenor Lawrence Brownlee. Veteran baritones Mariusz Kwiecien and Michele Pertusi appear in supporting roles.
There are some parallels between
I Puritani
("The Puritans") and Donizetti's
Lucia di Lammermoor.
Both operas are based on novels by Sir Walter Scott. (
The Bride of Lammermoor
 and
Old Mortality
, respectively.)
 Both have spectacular (read long, difficult) mad scenes for the soprano that can make or break a singer's career. The difference is that
Puritani
, set in the conflict between Cavaliers and Roundheads in the tumult following the overthrow and execution of England's King Charles I ends happily with the lovers reunited.
This production dates from 1976 and is showing its age. (In its first run, the stage sets were tread by Joan Sutherland!) With its traditional castle walls and fortress battlements, it is the perfect frame for the fine voices needed to navigate Bellini's music, which tends to pull the orchestral accompaniment back and allow the weight of the show to rest on the voices.
I Puritani
opens April 17, 2014.
Recording Recommendations:
Glyndebourne Festival Orchestra
cond.  Vittorio Gui (
Glyndebourne Festival
, 2010)
Elvira:
Joan Sutherland
Arturo: 
Nicola Ficacurini 
Riccardo
: Ernest Blanc
This classic live "pit" recording from 1960 which was finally released three years ago on the Festival's boutique label features one of Dame Joan Sutherland's first appearances as Elvira. (It also lets the listener hear the great Australian diva separated from her husband and regular conductor Richard Bonynge.) Nicola Ficacurini is her Arturo.
Philharmonia Orchestra
cond. Julius Rudel (
Westminster/ABC
1973)
Elvira:
Beverly Sills
Arturo:
Nicolai Gedda
Riccardo:
Paul Plishka
Reissued on CD in 2001, this recording preserves Beverly Sills at the end of her prime as Elvira. The silvery-voiced soprano is perfectly paired with Nicolai Gedda on this underrated studio recording.
Tickets for 
I Puritani
 are available at 
MetOperaFamily.Org
, by calling (212) 362-6000, or at the box office starting August 11.