The Metropolitan Opera revives a bizarre version of the children's classic.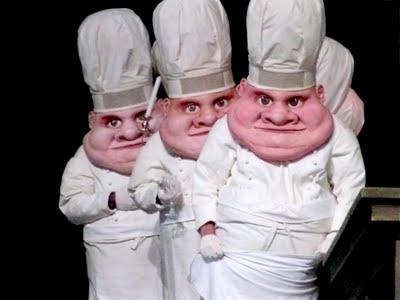 Chefs of the Future: the "angels" in Hansel and Gretel.
Photo by Douglas Quint © 2009 Eat Me Daily.
When I was a kid, the Met's production of
Hansel and Gretel
(by Otto Schenk) was something to see, with a gorgeous gingerbread house, imaginative animal costumes, and a dream ballet, with realistic-looking angels that brought tears to the eyes of the most jaded adult. In fact, Engelbert Humperdinck's fairy-tale opera has long been a family favorite at the Metropolitan Opera House.
Two years ago this staging arrived, imported from the Welsh National Opera and directed by Richard Jones. The kids now live in a gray tenement. The angels in the dream ballet have become odd-looking cooks, accompanied by a fish-headed waiter. The Witch's Cottage is a red hell-mouth leading to a giant industrial kitchen. The witch is a man in drag.
Humperdinck was a sophisticated composer who worked as an assistant to Richard Wagner at Bayreuth. His subject may be childish, but the music is not. The famous overture, the Witch's ride and the "dream ballet" present challenges to any conductor. The second act, dominated by the Witch, is simpler but ends with a spectacular choral ensemble as the children are freed from the Witch's spell.
This year's revival features Aleksandra Kurzek as Gretel, with Alice Coote and Kate Lindsey alternating in the role of Hansel. As with the last run of this opera, the Witch will be sung by a male tenor in drag. Heroic tenor Robert Brubaker, (known for his interpretation of difficult opera characters) puts on the Witch's fat suit and fires up the cook-stove. Robin Ticciati conducts. Presented in English.
Recording Recommendations:
Philharmonia Orchestra cond. Herbert von Karajan
(EMI, 1953)
Hansel:
Elisabeth Grummer
Gretel:
Elisabeth Schwarzkopf
The Witch:
Else Schurhoff
One of the classic early mono recordings that the young von Karajan made for Walter Legge, this is a benchmark reading of Humperdinck's score. The remastered Great Recordings of the 20th Century version sparkles.
Munich Philharmonic cond. Kurt Eichorn
(RCA, 1971)
Hansel:
Anna Moffo
Gretel:
Helen Donath
The Witch:
Christa Ludwig
This is a brilliantly conducted, solidly cast version of the opera with Dietrich Fischer-Dieskau taking the important role of the Father. Good stereo sound. It might be hard to find because of the RCA/Sony/BMG merger but it's worth tracking down.

Return to the Metropolitan Opera Season Preview!