Cannibalism repurposed as holiday entertainment.
by
Paul J. Pelkonen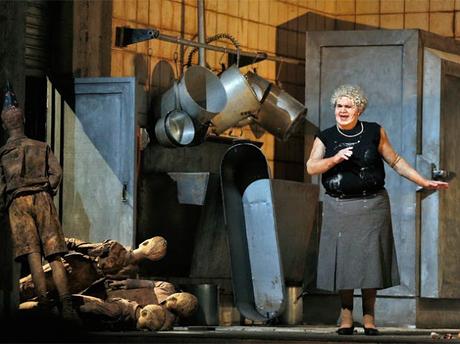 A delightful time for the whole family. Photo courtesy the Metropolitan Opera.
The Met revives Humperdinck's fairy tale (in English) in this fractured production by director Richard Jones. More cake?
What is Hansel and Gretel?
? For decades, Engelbert Humperdinck's fairy-tale opera  has stood as a stalwart family favorite at the Metropolitan Opera House, as traditional as the massive tree that adorns the Grand Tier promenade in December. Oh wait, they got rid of that production in the Peter Gelb era, replacing it with an unsightly mess by Richard Jones.
What's Hansel and Gretel about?
This is the seminal Grimm Brothers fairy tale that inspired (among other things) the 1974 classic
The Texas Chainsaw Massacre.
Two children are abandoned in the woods by their parents. They find a cannibalistic Witch, and defeat her, freeing the other children who have turned into gingerbread and cooking the Witch in her own oven. Delicious!
What's the music like?
Engelbert Humperdinck (not to be confused with the U.K. born pop singer of the same name) was a follower of Richard Wagner and Wagner's assistant at Bayreuth in 1882 before the premiere of
Parsifal
. This is a lush and romantic score that the Metropolitan Opera Orchestra (having been deprived of interesting music to play for most of this dry season) will tear into like a juicy steak.
Who's in it?
Tara Erraught and Lisette Oropesa are the kids. Dolora Zajick is their callous Mother and Quinn Kelsey gets a great aria as their father, Peter. Gerhard Siegel (in drag) is the Witch. Donald Runnicles conducts.
How's the production?
The kids are neglected latchkey children living in a gray tenement. The angels in the Act I dream ballet have become obese cooks, accompanied by a fish-headed waiter. The Witch's Cottage is no longer a charming  gingerbread house, but a red hell-mouth leading to a giant industrial kitchen (think concentration camp) circa World War II. The Witch is sung by a tenor in drag, which is fine.
Why should I see it?
Because this opera reminds New Yorkers that desserts are super fattening and bad for you. Like cronuts. Anybody remember the cronut? Also, sugary drinks are bad according to the subway. Not that there are any in this opera. You can get some at the snack bar. But they're very expensive.
When does it open?
The kitchen opens for business on December 18.
Where can I get tickets?
Tickets  are available through MetOpera.Org or by calling the box office at (212) 362-6000. You can save service fees by going to the box office in person at the Met itself, located at 30 Lincoln Center Plaza. Hours: Monday to Saturday: 10am-8pm, Sunday: 12pm-6pm.
Is there a Live in HD broadcast planned?
Yes. It is scheduled for Dec. 9 according to the Met website which makes no sense as the production opens nine days later.
Recording Recommendations:
Philharmonia Orchestra cond. Herbert von Karajan (EMI, 1953)
Hansel: Elisabeth Grummer
Gretel: Elisabeth Schwarzkopf
The Witch: Else Schurhoff
One of the classic early mono recordings that the young von Karajan made for Walter Legge, this is a benchmark reading of Humperdinck's score. The remastered Great Recordings of the 20th Century version sparkles.
Munich Philharmonic cond. Kurt Eichorn (RCA, 1971)
Hansel: Anna Moffo
Gretel: Helen Donath
The Witch: Christa Ludwig
This is a brilliantly conducted, solidly cast version of the opera with Dietrich Fischer-Dieskau taking the important role of the Father. Good stereo sound. It might be hard to find because of the RCA/Sony/BMG merger but it's worth tracking down. And like the best recordings of this German opera, it's performed in that language.