The Met dusts off a forgotten production of a forgotten opera.
by
Paul J. Pelkonen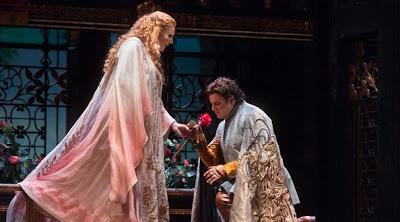 Eva-Marie Westbroek (l.) courts Marcello Giordani in Francesca da Rimini.
Photo by Marty Sohl © 2013 The Metropolitan Opera.
No doubt about it: this is the most surprising revival of the 2012-2013 season. This production of Riccardo Zandonai's
Francesca di Rimini
, one of the few important Italian operas of the 20th century not written by Giacomo Puccini. This production, was originally mounted in 1984 for Placido Domingo and Renata Scotto. The opera's lone 1986 revival featured Nicole Lorange and Ermanno Mauro. (Yes, I had to look them up.) It received just four performances and has never played since. This revival will play six times and include a
Met Live in HD
broadcast.
Zandonai's opera retells the doomed Renaissance romance of Francesca (Eva-Maria Westbroek) and Paolo (Marcello Giordani) against the backdrop of a power struggle between the Guelphs and the Ghibellines. Francesca is introduced to Paolo, who is substituting for his deformed brother Gianciotto, her actual future groom. Everything goes south when Paolo and Francesca fall passionately in love.
This is a rarely performed, and neglected work. From what I've read,
Francesca
is sort of
Tristan und Isolde
(love) crossed with
Simon Boccanegra
(politics) written in a (post-romantic) musical idiom that has been compared to Richard Strauss. The wordless love duet at the end of Act I is the best known part of the score.
Ms. Westbroek and Mr. Giordani are the star-crossed lovers. Mark Delevan takes the role of Gianciotto. Character tenor Robert Brubaker (who seems to specialize in playing depraved Renaissance nobles) is the evil Malatestino. Marco Armiliato conducts.
Francesca da Rimini
opens March 4.
Recording Recommendations:
Orchestre National de France
cond. Nello Santi (Gala, 2004 (recorded 1976))
Francesca
: Ilva Ligbue
Paolo
: Ruggero Bondino
Gianciotto
: Aldo Protti
You have to understand that this is an opera that has been almost totally neglected in the past century. But looking around on Amazon.com, I found this interesting 1976 recording of a French  radio broadcast starring Ilva Ligbue in the title role, Ruggero Bondino as Paolo and Aldo Protti (Iago in the classic Del Monaco/Tebaldi Otello) as Gianciotto. It should be worth a listen, but I've never actually heard it.
Return
to the
Superconductor 2012-2013 Metropolitan Opera Season Preview.