Beethoven's lone opera returns to the big house. 
by
Paul J. Pelkonen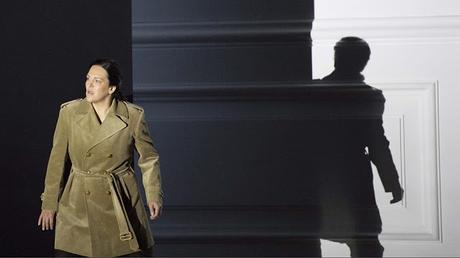 Adrienne Pieczonka in the title role of Beethoven's Fidelio.
Photo © 2014 Royal Opera House of Covent Garden.
Beethoven only wrote one opera: the strange yet stirring
Fidelio
. Adrienne Pieczonka plays a brave wife who dresses in drag and gets a job as a jailor in order to get her husband out of prison. This is the first Met revival in over a decade.
What is Fidelio?
This opera is Beethoven's only major work for the stage. He messed around with other ideas but kept returning to this story. Its first version (called
Leonore
) premiered in 1805, but it was condensed and revised, premiering at last in 1814. It is a
singspiel
, so there are times when the music stops and the characters engage in spoken dialog.
What's Fidelio about?
Fidelio
is based on a French play
Leonore, ou l'amour conjugal
set in the shadow of that country's Reign of Terror. (The libretto moves the action to Spain.) It is a "rescue opera", focused on the cross-dressing heroine's efforts to save her innocent husband from being murdered in prison.
What's the music like?
Beethoven wrote just one opera but he wrote it four times, revising and revising this work until he finally had something he liked. (There are even four seperate overtures, with the first three showing up on concert programs once in a while.) The first act makes uneasy jabs at musical comedy in the early going, that are sort of unsettling, like your uncle telling bad jokes at a family dinner. The opera finds its voice in the second scene when Leonore takes center stage. The second act is firmly in his high, heroic style and absolutely thrilling.
Who's in it?
Adrianne Pieczonka takes on the formidable vocal demands of the title role, a figure of the eternal feminine who must also appear masculine enough to fool Rocco and the other prisoners. German tenor Klaus Florian Vogt makes an overdue appearance at the Met as Florestan. Falk Struckmann, Greer Grimsley and Günther Groissböck are a strong trio of basses. Sebastian Weigle conducts.
How's the production?
Grim. This staging of the opera takes place almost entirely in an underground prison, presumably secret and putting its choristers and characters in a stark setting reminiscent of the HBO series
Oz.
But don't worry, there's a happy ending.
Why should I see it?
Fidelio
is more than just a potboiler, it is a celebration of the human spirit and the eternal feminine as personified in the brave and self-sacrificing heroine Leonore. Also, the second act is one of the most exciting acts in any opera.
When does it open?
Fidelio
gets some time in the exercise yard on March 16.
Where can I get tickets?
Tickets  are available through
MetOpera.Org
or by calling the box office at (212) 362-6000. You can save service fees by going to the box office in person at the Met itself, located at 30 Lincoln Center Plaza. Hours: Monday to Saturday: 10am-8pm, Sunday: 12pm-6pm.
Which recording should I get?
Philharmonia Orchestra cond. Otto Klemperer
(EMI/WBC 1962)
This is the heavyweight approach to this opera, with Otto Klemperer stirring his hand-picked studio orchestra to great heights of inspiration. Jon Vickers and Christa Ludwig were stalwarts in the roles of Florestan and Leonora and the supporting cast is superb. Top-notch.
Chamber Orchestra of Europe  cond. Nikolaus Harnoncourt
(Teldec/WBC 1994)
I'd also plump for this recording featuring period-performance expert Nikolaus Harnoncourt's intelligent approach to Beethoven. His tempos never drag and his cast, led by Charlotte Margaziano and Peter Seiffert is well suited to their roles. An excellent alternative.