Last year's production returns with a new cast.
by
Paul J. Pelkonen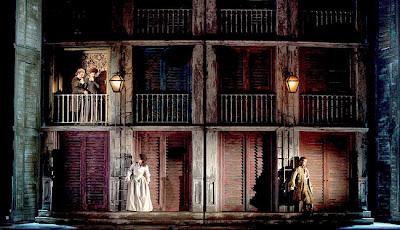 The Bourbon Street rag: Michael Grandage's dilapidated Don Giovanni.
Image © 2011 The Metropolitan Opera.
Just off the
Marriage of Figaro
, bass Ildar Abdrazakov cuts loose in the Met's revival of  
Don Giovanni.
This production, which premiered at the Met in the fall of 2011 is by award-winning director Michael Grandage. It was eagerly anticipated, but a slew of middling reviews overshadowed some fine performances.
Mr. Abdrazakov's rich, dark bass might be better suited to the Commendatore, but the title role can be sung by a bass. Erwin Schrott is Leporello. The strong young cast includes soprano Susanna Phillips as Donna Anna and Charles Castronovo as Don Ottavio. Edward Gardner conducts.
Michael Grandage's 2011 production takes an urban focus, with the darkened streets of Seville dominating the action. Christopher Oram's rotating set consists of high, curved tiers of louvred doors, as if the opera had suddenly been transported to a seedy hotel in the French Quarter. Some of the ideas (the Catalogue Song) work, others (the unnecessary amplification of the Commendatore) do not.
Don Giovanni
opens November 28.
Recording Recommendations
Don Giovanni
is one of the most frequently recorded Mozart operas, and many fine recordings are available. Here are three that I like.
Vienna Philharmonic cond. Josef Krips
 (Decca, 1955)
Don Giovanni:
 Cesare Siepi
Leporello:
 Fernando Corena
Donna Anna
: Suzanne Danco
Donna Elvira
: Lisa della Casa
Il Commendatore
: Kurt Böhme One of the first stereo recordings of this opera, the Krips recording captures singers of a different age in the fertile ground of Vienna, just a decade after the war. Siepi and Corena play the roles of master and servant with gusto, and the conducting is terrific.
Philharmonia Orchestra cond. Carlo Maria Giulini
 (EMI, 1959)
Don Giovanni:
 Eberhard Wächter
Leporello:
 Giuseppe Taddei
Donna Anna
: Joan Sutherland
Donna Elvira
: Elizabeth Schwarzkopf
Il Commendatore
: Gottlob Frick It's over 50 years old, and still the bench-mark. Carlo Maria Giulini is a brilliant conductor with the right blend of comic drive and high drama. The all-star cast (which also featurs Piero Cappucilli and Luigi Alva) was assembled by producer Walter Legge, a feat unimaginable today.
Chamber Orchestra of Europe cond. Claudio Abbado
(DG, 1998)
Don Giovanni
: Simon Keenlyside
Leporello
: Bryn Terfel
Donna Anna
Carmela Remigio
Donna Elvira
: Soile Isokoski
Il Commendatore
: Matti Salminen
This was Bryn Terfel's third recording of the opera, and his first as Leporello. (He was the Don for Solti's recording, and also recorded Masetto.) The Welsh baritone seems much more comfortable as the Don's slippery servant, and gives a great reading of this part. Abbado's conducting is spot on, as is Matti Salminen's terrifying Commendatore.
Return
to the
Superconductor 2012-2013 Metropolitan Opera Season Preview.
Contact the author: E-mail 
Superconductor
 editor 
Paul Pelkonen
.