The Met revives Nicholas Hytner's production of Verdi's bleakest opera.
by
Paul J. Pelkonen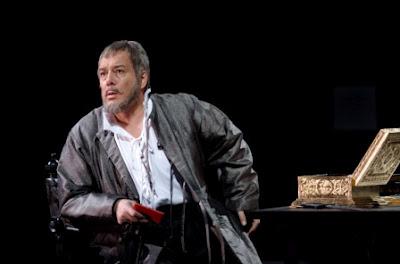 Royal crisis: Ferruccio Furlanetto returns as King Philip in the Met's revival of Don Carlo.
 Photo by Catherine Ashmore © 2009 Royal Opera House of Covent Garden
Verdi conceived of
Don Carlo
as a five-act grand opera for Paris, the center of the operatic world in 1866. (The Met performs the opera in Italian, using the composer's 1883 revision.) Based on a play by Friedrich Schiller, the story presents the title character, the son of Philip II, as a love-struck youth whose former fiancée has been married off to his father. This drama plays out against the background of Philip's court, with intrigue, assassination and the burning of heretics all central to the complex plot.
Although the
infante
is the title role, the meatiest part in
Don Carlo
is Philip himself, played here by the now legendary bass Ferruccio Furlanetto. Mr. Furlanetto has sung the role at the Met a number of times, and audiences will be looking forward to his great Act IV bass aria "Ella giammi m'amo ("She never loved me") with great anticipation.
The cast for this revival features Ramón Vargas in the title role, Barbara Frittoli as Queen Elisabeth, and mezzo Anna Smirnova as Princess Eboli, the femme fatale whose simultaneous interest in Carlo
and
Philip proves problematic. Expect grand orchestral gestures from the Metropolitan Opera Orchestra under the baton of Lorin Maazel (his first appearance at the Met in five years) and impressive work from the company chorus, particularly in the Act III
auto-da-fé.
Recording Recommendations
(Ed. Note: The following content is excerpted from an earlier
Superconductor
article,
Don Carlo on Disc: an Audio-da-fé.
)
There are many available recordings of
Don Carlo.
 The really good ones are sung in Italian, and are the five-act versions. Considering that a four-act
Don Carlo
will also fit on the same number of discs (three) we can quickly eliminate the sets by Muti and Herbert von Karajan.
Two in Italian
Royal Opera House of Covent Garden cond. Carlo Maria Giulini
Don Carlo:
Placído Domingo
Elisabeth:
Montserrat Caballe
Eboli:
Shirley Verrett
Rodrigo:
Sherrill Milnes
Philip:
Ruggero Raimondi
The Grand Inquisitor:
Giovanni Foiani
This is a definitive recording of the five-act version with a great Verdi conductor who knows the opera back-to-front. Placído Domingo and Montserrat Caballe are appealing together in the first two acts. Milnes and Domingo are a great pair in the big duet scenes. The late Shirley Verrett rocks the "Song of the Veil" and "O Don Fatale." Raimondi is great casting as the King, and his duet with Giovanni Foiani is tremendously powerful.
Chorus and Orchestra of La Scala cond. Gabriele Santini
Don Carlo: Flaviano Labo
Elisabeth: Antonietta Stella
Eboli: Fiorenza Cossotto
Rodrigo: Ettore Bastianini
Philip: Boris Christoff
The Grand Inquisitor: Ivo Vinco
(The Solti recording is most people's choice for an alternate. But I don't like his Verdi!)
This long-out-of-print DG recording has Boris Christoff as King Philip and great stereo sound. The choral singing is a little rough, as is the erstwhile Carlo of tenor Flaviano Labo, but this version of the five-act score has a raw edge and vitality that makes it an intriguing alternative to the Giulini. It's been reissued as part of a mammoth (and dirt cheap) DG box set:
Verdi: Great Operas From La Scala.
If you spot the old set in the original red slipcase with the cool album art, grab it. (No, you can't have mine.)
And one in French:
Chorus and Orchestra of La Scala cond. Claudio Abbado
Don Carlos: Placído Domingo
Elisabeth: Katia Ricciarelli
Eboli: Luciana Valentini-Terrani
Rodrigue: Leo Nucci
Philip: Ruggero Raimondi
The Grand Inquisitor: Nicola Ghiaurov
On the plus side, it's in French. On the minus, this four-disc workout features an Italian conductor leading an Italian orchestra with a (mostly) Italian cast. Domingo sounds terrific, as do the duelling "all-star" bass pair of Raimondi and Ghiaurov. Katia Ricciarelli and Luciana Valentini-Terrani act well, and their singing is just passable. But the reason to track this relic is for the fourth disc, which features an appendix of six scenes that are standard cuts. The famous "Woodcutters" opening is presented here, along with the gorgeous (if long) ballet music and the original ending featuring a chorus of shouting Inquisitors putting poor Carlos to the test.
This is
NOT
 a first choice. But if you fall in love with this opera (and I did, back in 1995) this is an interesting, if not essenital set to listen to. Especially because you can load it into a computer and program your IPod to play the "cut" scenes in the correct order. The booklet even shows you where to insert them--something that was technologically impossible when this set was originally released--if you were willing to stay up all night programming your CD changer. Not that I...ever...did that.