The Met pops the cork on a new production of the Johann Strauss operetta.
by Paul J. Pelkonen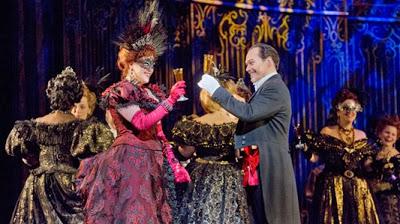 Susanna Philips and Christopher Maltman lift a glass in Act II of Die Fledermaus.
Photo by Ken Howard © 2013 The Metropolitan Opera.
The Metropolitan Opera celebrates the New Year with a new production (by
Enchanted Island
scribe Jeremy Sams) of Johann Strauss Jr.'s most popular operetta
Die Fledermaus
, the story of a guy determined to cheat on his wife, a saucy maid out to have a good time, and the Italian tenor who winds up getting (accidentally) thrown in jail. The libretto may be new but the music is still Strauss.
Die Fledermaus
is an operetta, with spoken dialog in between the musical numbers. The story careens from the French-style farce of the first act to the second which takes place at a party hosted by the callow and perpetually bored Prince Orlovsky. The wild night ends up in prison (with a funny jailer) in the third act.
This new production has a glittering cast with Susanna Philips as Rosalinde and Christopher Maltman as her husband the Baron von Eisenstein. Also featured: Jane Archibald (replacing an indisposed Christine Schäfer), Paulo Szot and Anthony Roth Costanzo: the best of the "new" Met. There's no word yet on whether the New Year's Eve performance will feature a gala sequence, (but we're hoping, since we have tickets!)
Mr. Sams moves the action of
Die Fledermaus
(which premiered in 1874) to turn-of-the-century Vienna, a glittering, glamorous time before the First World War tore Europe to shreds. The staging draws visual inspiration from the gold-flecked paintings of Gustav Klimt. In addition to Strauss' engaging waltzes, choruses and arias, this retooled
Fledermaus
will feature a new libretto by playwright Douglas Carter Beane.
It should be noted that this marks the second time the Met has presented
Fledermaus
with a new libretto--the previous effort was by the Broadway writing team of Betty Comden and Adolph Green. It recast Dr. Falke as Siegmund Freud and reimagined the practical joke-driven libretto as a complex psychological experience. It was
not
well received. In fact, after just seven performances in the 1998-99 season, the Comden & Greene
Die Fledermaus
was never revived.
Die Fledermaus
opens Dec. 31, New Year's Eve, 2013. That performance starts at 6:30pm, all others start at 7:30pm.
Recording Recommendations:
Vienna Philharmonic cond. Herbert von Karajan (Decca, 1960)
Eisenstein:
Waldemar Kmentt
Rosalinde:
Hilde Gueden
Adelaide:
Erika Köth
Alfred:
Giuseppe Zampieri
Prince Orlofsky:
Regina Resnik
(and a cast of celebrity guests, doing whatever they please.)
This is it: the best recording of
Die Fledermaus
you're ever going to buy. It's not just the bubbling tempos and expert playing of the Vienna Philharmonic under Herbert von Karajan, or the excellent, idiomatic cast. No, the real selling point here is the "Gala Sequence", an old Vienna performance tradition brought to vivid life. At Prince Orlovsky's party, the guests are offered the chance to do whatever they please. So a parade of great Decca opera singers comes out featuring Leontyne Price singing Gershwin, Birgit Nilsson (singing "I Could Have Danced All Night"), and Ettore Bastianini and Giulietta Simionato doing a hilarious English-language take on "Anything You Can Do, I Can Do Better" from
Annie Get Your Gun.
Tickets for 
Die Fledermaus
 are available at 
MetOperaFamily.Org
, by calling (212) 362-6000, or at
the box office
starting August 11.