Mozart's Turkish delight will be James Levine's last bow as music director.
by
Paul J. Pelkonen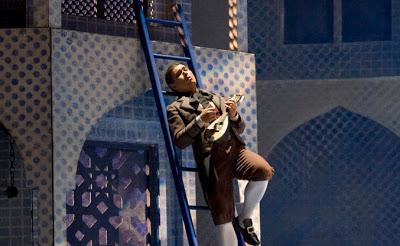 Ladder act: Steve Davislim as Pedrillo in the Met's 2008 revival of Die Entführung aus dem Serail.
Photo by Ken Howard © 2008 The Metropolitan Opera.
Under most circumstances, the revival of a relatively rare Mozart comedy at the Metropolitan Opera would be occasion for rejoicing. But thanks to an announcement made last week that James Levine would be retiring from the post of music director at the end of this season, this revival of Mozart's
Die Entführung aus dem Serail
("The Abduction from the Seraglio") has a sense of the bittersweet.
Entführung
entered the Met repertory in 1946 but it was Mr. Levine who made this work a repertory staple under his reign. It is the most buoyant of Mozart comedies, with bubbling rhythms and fizzing arias that demand the utmost precision and care of the musical line. Now that the Levine era at the Met is drawing to an end, (Mr. Levine slated to be moved to the new post of Music Director Emeritus next year) this revival suddenly feels like like a fitting curtain call.
This is a unique Mozart comedy, a German-language farce that was his first comic opera for the Viennese stage, premiering in 1782. It is a
singspiel,
sung in German with spoken dialogue, which (according to Met practice) will also be in German. This is a work not so much about character but culture clash, as a European nobleman attempts to rescue his girlfriend from the genteel but restrictive clutches of the Pasha Selim, a Turkish prince. It is also a window into how the 18th century Viennese mind viewed the Ottoman Turks, who had besieged and battled the Austrian capital a century before this opera's premiere.
This revival stars coloratura soprano Akbina Shimiguratova as Konstanze, the Spanish lady imprisoned in a Turkish harem by the creepy but ultimately benevolent Pasha Selim (Matthias Von Stegman.) The extraordinary tenor Paul Appleby is Prince Belmonte, sailing to her rescue aided by his trusty  servant Pedrillo (Brenton Ryan) a kind of proto-Figaro whose function is mainly comic relief.
Blocking their escape from the seraglio is Osmin (bass Hans-Peter König) the malicious but comical overseer who engages in verbal duels with Pedrillo while pursuing the latter's girlfriend Blondchen (soprano Kathleen Kim.)  This handsome John Dexter production is a throwback to the Met's glory days, and it's presentation will hopefully mark one last glorious run for Mr. Levine.
Recording Recommendations:
There are a few good recordings of
Entführung
in the catalogue, including a bubbling account on period instruments led by John Eliot Gardiner, a pedal-to-the-metal account by Sir Georg Solti and the Vienna Philharmonic, and older recordings by Karl Böhm, Ferenc Fricsay and Eugen Jochum. Every one of these except the Solti is on Deutsche Grammophon. All are excellent, though Jochum's recording features the strange, warbly soprano Erika Koth as Blondchen. Last year, the Yellow Label added a fifth recording to its catalogue: a new version featuring the Mahler Chamber Orchestra under the baton of Yannick Nézet-Séguin.