The Met opens its first full cycles of the Lepage Ring.
by
Paul Pelkonen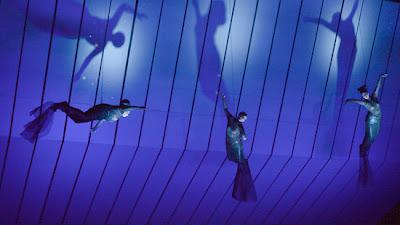 Underwater love: the three Rhinemaidens cavort at the start of Das Rheingold.
Photo by Ken Howard © 2010 The Metropolitan Opera
The first chapter of Wagner's massive
Der Ring des Nibelungen
is either the easiest of Wagner's operas to sit through--or the hardest.
Das Rheingold
begins underwater, with three Rhinemaidens being bothered by a sexed-up Nibelung dwarf. When he's rejected, Alberich steals their treasure, the gold that "wakes and sleeps" on the riverbed. He pronounces a curse on love and forges the magical Ring, an object that will pass from hand to hand until the end of the cycle 15 hours later.
Das Rheingold
has no human characters, but at its center are Alberich and Wotan, the power-obsessed Germanic god (Bryn Terfel) who is willing to barter away youth, happiness and love for domestic security. He makes a series of bad bargains in this opera, eventually attempting to sieze the
Ring for himself.
The Met's new production of
Das Rheingold
opened in the Fall of 2010. It introduced audiences to the clanky, sometimes balky stage mechanism "The Machine", which contorts and configures itself into river-beds, mountain-tops and the seemingly impregnable walls of Valhalla. With the Met charging its usual (doubled) ticket prices for three complete cycles of Wagner's
Ring
, the Machine had better be on its best behavior.
Recording Recommendations:
There are a number of complete, and excellent recordings of
Das Rheingold
, although many are out of print after being subsumed into boxed sets of the complete cycles by well-meaning record companies. For a
guide to complete Ring recordings, visit here
.
There is one that stands above the rest.
Das Rheingold
Vienna Philharmonic cond. Sir Georg Solti.
(Decca, 1958)
Wotan:
George London
Fricka:
Kirsten Flagstad
Loge:
Set Svanholm
Alberich:
Gustav Neidlinger
The first ever studio recording of the first part of Wagner's
Ring
Cycle is from 1958, when stereo was a relative novelty. It brought together two great eras of Wagner singers. At the end of their careers, Kirsten Flagstad and Set Svanholm (who sang together often as Brunnhilde and Siegfried) give superb, characterful performances as Fricka and Loge.
The "new guard" is represented by a young George London, ideal as the optimistic Wotan. The supporting cast is memorable, particularly Gustav Neidlinger's harrowing portrayal of Alberich.
The Vienna Philharmonic provide the threads: golden sounds in the brass, swelling strings, and finely detailed wind playing.
Part of what makes this recording so much fun is its pioneering use of special "audio effects" to mimic the sounds that Wagner had in mind. These include a thunder machine (a huge piece of sheet metal above a giant bass drum, a "school" of 15 anvils banging away, and bars of lead, brought to the studio and clunked about to represent the Nibelung hoard. Add that to a driving performance by a young Georg Solti and the results show how much fun Wagner can be.
To read a review of
last season's Das Rheingold
, visit this link.