James Levine returns to conducting opera with Mozart's comedy.
by
Paul J. Pelkonen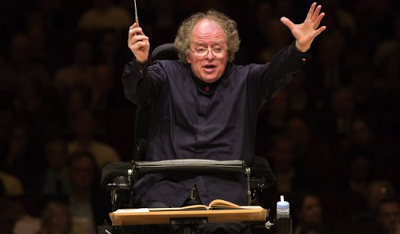 James Levine returned to conduct the MET Orchestra at Carnegie Hall on May 19, 2013.
Photo by Marty Sohl © 2013 The Metropolitan Opera/MET Orchestra.
Are women really "like that?"(Maybe.)
Are men really pigs? (Probably.)
Is James Levine really back? (Definitely!)
Those are just some of the questions explored in the Metropolitan Opera's latest revival of Mozart's 
Così fan tutte
 (loosely: "Women are like that.") This is the story of two sisters whose boyfriends (trying to win a coffee-house bet) decide to disguise themselves as Albanians (don't ask) and seduce the other's partner. Unlike most operatic comedies, 
Così 
ends on a question mark, as da Ponte never explicitly tells the audience who winds up with who.
As a result, this sparkling comedy (the third and final collaboration between Wolfgang Amadeus Mozart and librettist Lorenzo da Ponte) was labelled as a "bad" or "immoral" work by prudish 19th century opera-goers. It was in the 20th century that this ambiguous comedy found its audience, who can appreciate the beauty of the music and the athletic vocal writing that characterizes one of Mozart's most difficult scores.
This revival marks the return of Met music director James Levine to podium duties for the first time since 2011. Mr. Levine is currently conducting from a specially designed wheelchar, but his Mozart always has wit, sparkle and charm. He'll lead a strong cast. Isabella Leonard and Susanna Phillips might be luxury casting as Fiordiligi and Dorabella. Hoodwinking them: Australian soprano Danielle di Niese as Despina, their perpetually scheming maid. Matthew Polenzani and Rodion Pogossov are their lovers.
Così fan tutte
opens
Sept. 24
, and is the first opera of this year's
generale.
It is scheduled for a second run of performances in late April/early May (replacing a planned run of
Aufstieg und Fall der Stadt Mahagonny.
Sigh.). The second run starts on
April 27
, and features soprano Guanqun Yu replacing Ms. Phillips.
Recording Recommendations:
Many of the great Mozart recordings from major labels have been bundled into box sets of "complete Mozart operas" or "complete Mozart and Da Ponte operas." That means it's hard to buy an individual recording of
Cosí fan tutte.
That said, of the ones available, there are two ways to go: modern, and "period", with instruments from the 18th century.
Concerto Koln
cond. René Jacobs (
harmonia mundi,
1999)
Fiordiligi: Véronque Gens
Dorabella: Bernarda Fink
Ferrando: Werner Güra
Gugliemo: Marcel Boone
Despina: Graciela Oddone
The Jacobs recording is part of this conductor's ongoing cycle of Mozart operas played on period instruments with some of the finest historically informed players in Germany. With a strong, young cast and bright, clear sound, this is an attempted return to the style of the opera as Mozart may have heard it. It is completely uncut.
Berlin Philharmonic
cond. Eugen Jochum (
Deutsche Grammophon
, 1963)
Fiordiligi: Irmgard Seefried
Dorabella: Nan Merriman
Ferrando: Willem Schulz
Gugliemo: Hermann Prey
Despina: Erika Koth
This is a very fine German stereo recording from the 1960s, with an all-star cast of singers. Eugen Jochum's crystalline, old-school conducting and the smooth DG analog sound are selling points, along with the superb performance of Ms. Seefried in the key role of Fiordiligi. Interestingly, this set features Dietrich Fischer-Dieskau
and
Hermann Prey, the two greatest baritone
lieder
singers of the 20th century as Don Alfonso and Gugliemo. There are a few small standard cuts.