The best one-two punch in opera returns in a brand-new production.
by
Paul J. Pelkonen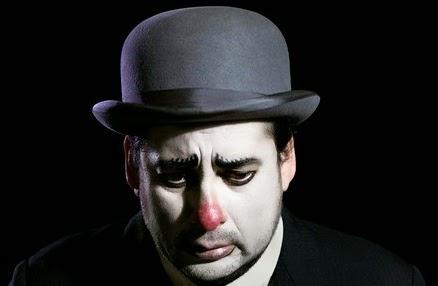 No laughing matter: Marcelo Álvarez is Canio in Pagliacci. Photo by Anne Deniau © 2014 The Metropolitan Opera
Although they were written by two different composers, the one-act operas
Cavalleria Rusticana
(by Pietro Mascagni) and
Pagliacci
(by Ruggerio Leoncavallo) go together like bacon and eggs. Known in the trade as "
Cav/Pag
", these two operas are each bloody tragedies of jealousy and murder in small-town rural Sicily.
Mascagni wrote
Cav
as an entry in an opera competition in Italy in 1888. Premiering in 1890, the work proved a sensation, kicking off the
verismo
movement in opera, a trend of realistic stories about ordinary people, sometimes coming to bloody ends. Inspired by his friend Mascagni and a story remembered from his childhood, Leoncavallo wrote
Pagliacci
two years later. The Met was the first company to put the operas together in 1893, a performance tradition that continues to this day.
In this new production by Sir David McVicar, tenor Marcelo Álvarez sings the leading roles in each opera. In
Cavelleria Rusticana
("Rustic Chivalry") he is Turiddu, a boisterous young tough whose torrid affair with another man's wife leads to a brutal knife fight. In
Pagliacci
("The Players") he is Canio, the star of a
commedia dell'arte
troupe who goes on a murderous rampage, killing his wife and her lover in front of a live audience.
This brand-new staging (replacing yet another beloved Franco Zeffirelli production) sets the two operas in Sicily 48 years apart.
Cav
is set in the traditional village town square circa 1900. The drama of
Pag
takes place in that town square, now a truck stop. Eva-Marie Westbroek is Santuzza in the first opera. Patricia Racette is the doomed Nedda in the second. Met Principal Conductor Fabio Luisi conducts.
Cavalleria Rusticana / Pagliacci
opens April 14, 2015. A
Met Live in HD
broadcast is scheduled for April 25.
Recording Recommendations:
Orchestra del Teatro alla Scala di Milano cond. Herbert von Karajan, DG 1965
Cavalleria Rusticana:
Turiddu:
Carlo Bergonzi
Santuzza:
Fiorenza Cossotto
Alfio:
Giangiacomo Guelfi
Pagliacci:
Canio:
Carlo Bergonzi
Nedda:
Joan Carlyle
Tonio:
Giuseppe Taddei
These two classic recordings were originally available together on vinyl, and later in a deluxe three-CD box set along with a nice set of opera
intermezzi.
Now available seperately as "DG Originals", they remain the heavyweight champion recordings of these two very popular operas. Carlo Bergonzi is brilliant in both leading roles, and Karajan leads the La Scala orchestra and chorus in an inspired performance, showing the magic this conductor was capable of in the studio.
Tickets for
Cavalleria Rusticana / Pagliacci
are available at
MetOpera.Org
, by calling (212) 362-6000, or at
the box office
.