Anita Rachvelishvili returns as Bizet's sexy Gypsy woman.
by
Paul Pelkonen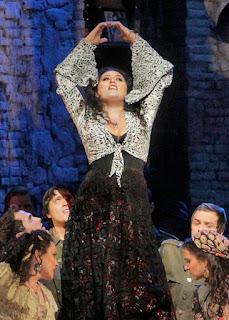 Sex type thing: Anita Rachvelishvilli as Carmen.
Photo by Marty Sohl © 2010 The Metropolitan Opera.
Richard Eyre's potent, sexy take on
Carmen
moves the opera (as many other productions have) to the war-torn Spanish countryside of the 1930s. Anita Rachvelishvili, who made a huge splash at the opera house singing the title role in 2010 returns as a photogenic Carmen. Up-and-coming tenor Yonghoon Lee is her Don José, the obsessed soldier who should have listened to his mama.
Although it ranks in the top five in terms of popularity,
Carmen
is an elusive creature, difficult to perform in a simple, honest way that is free of theatrical cliché. The Met production splits the difference between use of the original spoken dialog and the Giraud recitatives (written after the composer's death.) Mr. Eyre starts the opera with the necessary exposition of the dialog and then slips into recitative to raise dramatic tension in the last two acts.
Carmen
opens Sept. 28.
Recording Recommendations:
(Ed. note:
this is re-posted from an earlier "buyer's guide" article on
Superconductor
. Hey, it's my blog.)
Carmen
's elusive quality extends to the recording studio, where a number of all-star teams have gone in to make the ideal recording of Bizet's opera, only to come up woefully short.
The list of divas defeated by
Carmen
includes names like
Jessye Norman
,
Maria Callas
, and even
Joan Sutherland
(whose Micaëla was nothing to write home about.) Famous conductors have tried to record this opera, only to be put out of court by
disastrous tenors
,
weird taste in singers
, or
simple perversity
in the production booth. With that in mind, here's a quick guide to the survivors: the recordings of
Carmen
that are worth owning.
(There are only two!)
Chor et Orchestre de la Radiodiffusion de France, cond. Thomas Beecham. 
Carmen:
Victoria de los Angeles
Don José:
Nicolai Gedda
Micaëla:
Janine Michaeu
Escamillo:
Ernest Blanc
Sir Thomas Beecham shows his vast experience as an opera conductor in this perfectly paced performance. He opts for the Giraud recitatives (standard practice back when this recording was made.) Their presence lends the recording a flowing, dramatic quality.
Victoria De los Angeles is superb, sensual and deeply human in the title role. Gedda, always at home in French repertory, is at his finest in this early recording. Micaëla and Escamillo are not star singers, but both understand the part thoroughly and sing in idiomatic French.
London Symphony Orchestra cond. Claudio Abbado
Carmen:
Teresa Berganza
Don José:
Placído Domingo
Micaëla:
Ileana Cotrubas
Escamillo:
Sherrill Milnes
This studio recording was made following the 1977 Edinburgh Festival. Claudio Abbado and the LSO play like an orchestra shot out of a cannon, with a rapid prologue and quick pacing throughout the opera. The spoken dialog is used throughout, adding to the theatrical feel.
Placído Domingo is in the prime of his voice. So is Milnes, as the swaggering bullfighter. Teresa Berganza has a smaller voice than most Carmens, but the force and intelligence behind her performance bring depth to the character. Ileana Cotrubas might be the best Micaëla on disc--pure luxury casting.
Return
to the
Superconductor 2012-2013 Metropolitan Opera Season Preview.
Contact the author: E-mail 
Superconductor
 editor 
Paul Pelkonen
.