Delve into the Gilded Age with Strauss' romantic comedy.
by Paul J. Pelkonen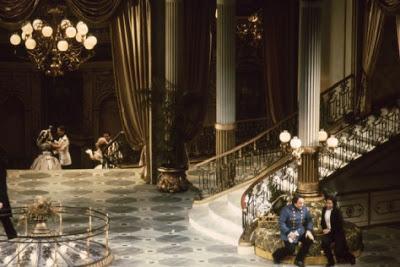 Lush life: The sumptuous hotel staircase is a central feature of Arabella.
Photo by Winnie Klotz © 2001 The Metropolitan Opera.
With waltzes, cross-dressing and romantic misunderstandings, it is clear that Richard Strauss' tenth opera
Arabella
owes something to his earlier smash
Der Rosenkavalier
. But this, the final collaboration between composer Richard Strauss and librettist Hugo von Hoffmannsthal is a darker opera, with a deep note of sentimentality and longing for a vanished Gilded Age.
This comedy of manners is set in a Vienna hotel during the Carnival season, A destitute noble family whose patriarch has a gambling addiction is facing the challenge of bringing up two daughters. One, Arabella is about to make her social debut at the Cabbie's Ball on Fat Tuesday. Meanwhile, her sister Zdenka has been forced (for monetary reasons) to cross-dress as "Zdenko" to save the family the expense of bringing two daughters "out" into polite Viennese society.
Her "Mr. Right" turns out to be Mandryka, a wealthy Croatian land-holder (played here by Michael Volle) who arrives seemingly out of nowhere to sweep her off her feet. Despite various misunderstandings involving another suitor and Arabella's cross-dressed sister, the couple comes together at last and everything ends happily.
Arabella
has some of Strauss' most beautiful music but it's a bit of a rarity, only revived when there is a singer capable of meeting the combination of stage presence and glorius voice needed for the demanding title role. (The Met has not presented this opera since 2001, and every previous run of this show featured Dame Kiri te Kanawa in the leading role.)  Here, the cast is very strong, with Swedish talent Malyn Byckström in the title role and German baritone Michael Volle as Mandryka. Philippe Augin conducts one of Strauss' most elegant scores. 
Arabella
opens April 3, 2014.
Recording Recommendations:
Vienna Philharmonic
cond. Karl Böhm (Deutsche Grammophon 1947)
Arabella: Maria Reining
Zdenka: Lisa della Casa
Mandryka: Hans Hotter
Vienna Philharmonic
cond. Sir Georg Solti (Decca, 1957)
Arabella: Lisa della Casa
Zdenka: Hilde Guëden
Mandryka: George London
In the 20th century, Lisa Della Casa was the definitive interpreter of
Arabella
, doing much to maintain interest in what is generally considered one of the lesser Strauss operas. She takes the role of Zdenka in this monaural Karl Böhm recording, made from a live broadcast from the 1947 Salzburg Festival. A decade later, she moved to the title role for this classic Decca set, the first of many Strauss recordings made by Georg Solti for that label. Tickets for 
Arabella
 are available at 
MetOperaFamily.Org
, by calling (212) 362-6000, or at the box office starting August 11.